Samsung AV-R3000 THX Ultra2 Receiver
Samsung AV-R3000 THX Ultra2 Receiver
Filed under: Receivers and Processors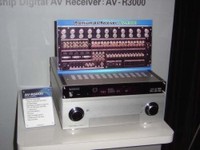 One of the pleasant suprises of the CES 2005 show was Samsung's live demo of the new AV-R3000 AV receiver. This monster-sized receiver defies all logic - in the sense that Samsung's first (recent) foray into the receiver market begins with a flagship model whose features rival most other products currently on the shelves. The unit weighs just over 70 pounds and has an elegant black on silver look. The demo, given by Gary Altunian, included both music and theatrical content and the receiver drove a complete B&W Nautilus series. I can't really comment on it's sound quality as the loud show floor isn't exactly a place you do critical listening tests!
Here's a list of specs and features gleaned from the demonstration event:
250W x 7 (0.05% THD @ 8 ohms; 20Hz-20kHz)
THX Ultra 2 Certification
DNSe (Digital Natural Sound Engine) Sound Field Control
DNSe Room EQ (distance, size, level, frequency response)
Faroudja FLI 2310 for video upconversion and scaling
6 Freescale (spin off of Motorola) decoders:

1 for general audio processing
1 for post processing
1 for sound field and AV delay
2 each for 4 channels of room EQ processing
1 for Zone 2 (digital output)

Zone 2 handles digital output
Zone 3 speaker level out
25 sound field modes (19 music, 6 movie/multimedia)
2-in, 1-out DVI switching (with HDCP)
4-in, 1 out HDMI switching
Upconversion from composite/s-video/component to HDMI/DVI (both simultaneously)
Downconversion from HDMI/DVI to component
THX Games mode (plus about every conceivable surround format available)
Nice GUI interface
200ms audio delay (1ms steps)
Two IEEE 1394 ports for high resolution audio (DVD-Audio/SACD/etc)
Bi-directional RS-232C for firmware updates and device control
Two 12V DC triggers (15mA)
Needless to say, this new receiver is an instant contender in terms of specifications. Its THX Ultra2 certification makes it the first THX Ultra2 licensee with a digital amplifier (the first digital amp that could pass the 150W/channel test.) The digital amplification technology is called ICE power and has some exceptional numbers in terms of damping factor, intermodulation distortion, etc. After this demo, we're certainly looking forward to getting it on the bench and into one of our reference systems for a review. The DVI/HDMI/Firewire capabilities alone are a definite wakeup call to the competition.
The new receiver will launch around June/July 2005 and has an MSRP of $4995.