Philips All-in-One OPU81 Blu-ray Disc Drive
Philips All-in-One OPU81 Blu-ray Disc Drive
Filed under: Transports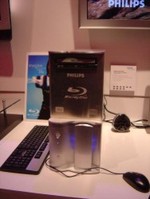 We stopped by the Philips booth and were fortunate enough to speak with one of their product engineers who took us through the upcoming Blu-ray disc products. The first product slated to hit the market is the All-in-One OPU81 internal drive which is a true universal solution. The drive has 3 discrete lasers: red for DVD, Infrared for CD and blue for the Blu-ray disc. It will read and write pretty much all formats:
Dual Layer Blu-ray disc (50GB)
Dual-layer DVD+/-R
16x DVD+/-R/RW
40-50x CD-R/RW
This unit uses discs without cartridges, thanks to a hard coating they apply to the Blue-ray disc media. The drive will start shipping by the end of the year, with mass production taking place in early 2006. MSRP is set at around $450.
The internal PC drive will debut first primarily because Philips (and likely the entire Blu-ray disc group) wants to wait on the install base of software to be ready for a set-top box deployment. They did, however, show off a prototype set-top Blu-ray disc recorder/player unit that was playing back recorded ATSC signal on an LCD display. The new players look awesome and play off of a high-tech look that emphasizes the advances features of the new format.