Oppo DV971H DVD Player
Filed under: Transports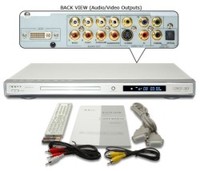 I spent considerable time at CES today looking for some interesting new companies and technologies while the rest of the team covered some of the more recognized manufacturers. One trend that I found very interesting is the number of larger Chinese companies getting ready to break into the US market with their own brands. One such company is OPPO Digital, Inc. Their first product to hit the US market is the DV971H DVD player. This player handles the usual formats, plus DiVX 4 and 5. The neat thing is that for an MSRP of just $249 and a street price of $199, this player also offers a DVI output that is 720p/1080i capable.
Here's a quick list of specs & features:
Plays DVD, DivX, VCD, SVCD, HDCD, CD, WMA, CD-R, CD-RW, Kodak Picture CD,
DVI digital output with support for 480p/720p/1080i
Faroudja DCDi video processing
PAL/NTSC compatible
108MHz/12-bit Video D/A converter
Component/S-video/Composite outputs
Optical/Coax S/PDIF digital audio outputs
Analogue 5.1 and downmixed stereo audio outputs

Dimensions: 16 1/2" (W) x 10 5/8" (D) x 1 5/8" (H)

Weight: 5.5 lbs
I spoke with Sally Li, the VP of Marketing and Strategic Alliance, who told me that Oppo's goal is to bring products to market slowly but effectively so that consumers get an excellent value, and the user experience is consistent and top notch. With a sub-$200 DVD player featuring DVI outputs and Faroudja video processing I think they're off to a good start.
Read our Comprehensive Review of the Oppo DV971H DVD Player
The DV971H DVD player is available immediately from Amazon.com , or you can visit www.oppodigital.com for more information.