Logitech Harmony 880 LCD Remote
Logitech Harmony 880 LCD Remote
Filed under: Miscellaneous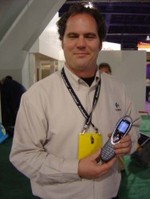 We delivered our Product of the Year Award to Bryan McLeod, Vice President of Logitech's Remote Control Business for the Harmony 676 remote control . While we were there we previewed Logitech's new universal remote control with a large LCD color display. The new logitech Harmony 880 advanced remote control offers enhanced navigation through the use of customizable graphical icons (which replace the former activity buttons, allowing for multiple screens of 8 activities each. Slated for availability in April, the new remote is the first to leverage Logitech's renowned design expertise to make the Harmony remote even more stylish and intuitive, so home-entertainment can be fun and relaxing. Mark Rigley, Senior Developer for Logitech's Harmony line was extremely pleased at the look and feel logitech was able to impart to the new remote. He commented that logitech is taking the remotes to a new level in terms of industrial design and ergonomics. From first glance, we'd have to agree. Mark is pictured to the right holding one of 5 prototypes of the remote.
Maintaining the same comfort-grip design as previous models of Harmony remotes, the new Harmony 880 features a vibrant, color LCD and finely sculpted buttons that make selecting an activity a breeze. Colorful icons now accompany text on the LCD screen to allow for quick and easy command of home entertainment equipment. The remote is also rechargeable, eliminating the need to change batteries. When the remote is not in use, it rests on an attractive charging platform. The battery life span of the new remote is about two weeks until it needs charging, thanks largely to a great amount of attention paid to the remote's energy management and an automatic sleep mode. Those with an eye for design will also be drawn to the polished chrome directional pad and buttons, contrasted by the remote's glossy black and brushed grey finishes.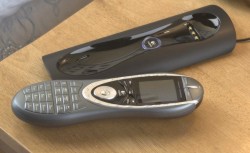 As mentioned above, the color display has eight buttons, four located on the left and right sides, which together serve as a personalized activity control center. During setup, background images can be downloaded to fit personal preference. To optimize visual navigation, on-screen icons and text describe specific activities, such as watching TV or listening to music. The remote is fully backlit so it's easy to navigate in the dark. When their eyes are glued to the television, people can find useful buttons effortlessly, by touch. The primary navigation controls -- such as play, pause, record and the number buttons -- are easily identified by feel due to their varied size, shape and location. This is a huge issue with LCD remotes and the new hybrid approach shows an excellent thought process on behalf of the design team.

With rechargeable lithium ion batteries, the Harmony 880 remote will never require new batteries. Meanwhile, the stylish recharging station provides a home for the remote so that the whole family knows where to put and find it. Oriented horizontally, the recharging platform fits in a subtle, yet attractive manner on either a side table, or atop the entertainment stack.
The Harmony 880 remote is expected to be available beginning in April in North America and in May in Europe. The suggested retail price is expected to be $249.95 in the US - only $20 more than current non-LCD models! For more information, visit www.logitech.com/harmony .