LG PX and PY Series Plasma Displays
LG PX and PY Series Plasma Displays
Filed under: Displays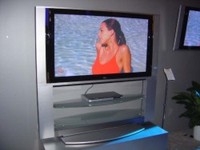 LG showed off a broad new series of flat-panel displays, led by the first plasma HDTVs with built-in digital video recorders (DVR). These cutting-edge plasmas also include high-definition television (HDTV) receivers, and digital-cable-ready CableCARD slots. Highlights include 60- and 50-inch plasma HDTVs with built-in DVR, a 23-inch LCD TV with built-in DVD player and the largest PDP on the market today - a massive 71-inch plasma HDTV monitor.

Significantly, LG's new plasma integrated HDTVs are built with the company's 60,000-hour "DoubleLife" panels, extending PDP longevity. What's more, the new displays are showing 5000:1 stated contrast ratios and 1000 candellas- per-square-meter (cd/m2) of brightness. Building on its early lead as the first to incorporate the latest Gemstar TVGuide Onscreen interactive program guide, LG is bringing this valuable feature into all of its Digital Cable Ready HDTVs for 2005.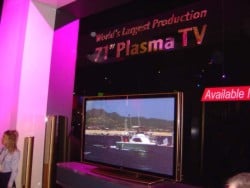 A Plasma Display Measured in Feet?
The debut of the highly anticipated 71-inch plasma display panel, model MW-71PY10 - the largest PDP on the market for consumer purchase - was quite the attention-getter at the show. A plasma that can measured in feet, not inches, the MW-71PY10 boasts 1920 x 1080p (progressive-scan) resolution - the highest resolution currently available on any HDTV display worldwide. This mammoth set also integrates LG's XD EngineTM technology delivering what we felt were crisp, lifelike and brilliant images. It actually comes with 18k gold plating on the screen border and can be matched to gold speakers (black is also available for the same price.) Shipments should be starting at the end of January. MSRP is only $75,000.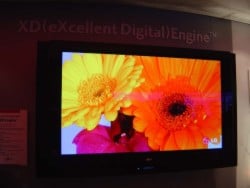 LG is also unleashing the 60PY2DR and 50PY2DR, 60- and 50-inch plasma HDTVs with an integrated 160-gigabyte DVR that can record up to 14 hours of digital high-definition programming or 62 hours of digital standard-definition programming. Driven by LG's new XD Engine technology, these PDPs feature built-in CableCARD capabilities and come complete with a built-in stand and speakers. The PY2DR series, honored with the IF Design and CES Innovations awards, combine sleek industrial design with advanced features including dual slots for nine different formats of memory cards. They are planned for a second-quarter availability.

Other new LG PDPs include 60-, 50- and 42-inch integrated digital cable ready HDTV models 60PY2D, 50PX5D and 42PX5D all planned for the second quarter. These sets feature LG's fifth-generation ATSC VSB/QAM tuner, which receives terrestrial digital HDTV and unscrambled digital cable, and a NTSC tuner for conventional analog TV broadcasts. Designed to receive digital HDTV programming and premium cable services without the need for a set-top box, these PDPs are built around industry-standard CableCARDs provided by cable operators, and can receive free over-the-air digital (ATSC) HDTV and analog (NTSC) programming. Flexible picture-in-picture (PIP), picture-outside-picture (POP) and split-screen options enhance the viewing experience.

For more information, please visit www.lgusa.com .