Fujitsu Plasmavision TVs
Filed under: Displays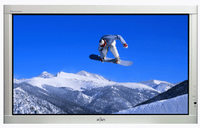 Fujitsu's new line of Plasmavision monitors feature an upgraded version of the acclaimed AVM digital video processor, the Advanced Video Movement-II (AVM-II) processor, an HDMI input and a slick new cabinet design. The AVM-II digital video processor features four distinct improvements to enhance the award-winning picture quality of Plasmavision monitors through the use fo several technologies:
AVM Noise Reduction reduces the "digital noise artifacts" often present in today's heavily processed (compressed or expanded) video content, and smoothes jagged edges.
Picture Text Optimizer recognizes on-screen text and graphics and processes them in the most optimal way.
Ambient Light Sensor senses the relative brightness of the viewing room and digitally adjusts the screen brightness and contrast. 
Advanced Color Management adjusts specific hues to appear more natural.
In addition to the AVM-II processor, all new models feature a 10-bit video processing system, producing more than 1.07 billion colors. Plasmavision monitors also include High-Definition Multimedia Interface (HDMI), enabling access to true high-definition audio/video content, plus an RS-232 control port for integrated system operation. New Plasmavision monitors also feature built-in stereo audio amplifiers to facilitate their use in stand-alone multimedia or home entertainment applications, using optional available speakers.
All Fujitsu monitors feature slim-profile designs measuring just a few inches in depth, facilitating wall-, ceiling- or stand-mounting in custom installation home theater systems, with a chassis design that enables all connecting cables to be easily and invisibly installed. The displays feature elegant front bezels with crisp, defined angles and a rich metallic silver finish, designed to complement any home entertainment system and living environment.
Fujitsu's 55-inch plasma monitor, the P55XHA40US, features e-ALiS technology for exceptionally sharp big-screen image quality with superlative color accuracy and ultra high brightness. The P55XHA40US incorporates a high-definition 1366 x 768 pixel panel that can display the output from virtually any home theater video source. Fujitsu's 50-inch high-definition P50XHA40US incorporates a high-resolution 1366 x 768 pixel panel. The P42HHA40US features a 1,024 x 1,024 pixel panel, using Fujitsu's Alternate Lighting of Surfaces (ALiS) technology. The P42VHA40US incorporates an advanced-technology 852 x 480 pixel panel.
Quick Specs:
Display Type: AC-Type plasma display panel
Screen Size: 42" diagonal ( P42VHA40US
) 42" diagonal (P42HHA40US) 50" diagonal ( P50XHA40US )
Weight: 69.4 lbs ( P42VHA40US & P42HHA40US) 99.2 lbs ( P50XHA40US )
Pixel Count: 852 x 480 rectangular ( P42VHA40US ) 1024 x 1024 (P42HHA40US) 1366 x 768 ( P50XHA40US ) 
Contrast Ratio: 4000:1 ( P42VHA40US ) 1000:1 (P42HHA40US) 3000:1 ( P50XHA40US ) 
Aspect Ratio: 16:9
Displayable Colors: 1.07 billion colors
Video Standards Supported: NTSC, PAL, SECAM, M-PAL, N-PAL, 4.43NTSC, PAL-60
Video Inputs: Video x 1, HDMI x 1, S-Terminal x 1, Component x 2
Audio Inputs: RCA Terminal (L/R) x 3 sets, 0.5 Vrms
Computer Inputs: RGB 15-pin x 1 
Digital Interface: DVI-D x 1 (PC use only. Not compatible with HDCP) 
Viewing Angle: 160 degrees 
Horizontal kHz: 15.62 - 80.00 
Vertical Hz: 50.0 - 120.0 
Power Source: 110 - 240 V, AC 50/60 Hz 
External Control: RS-232C
Three of the new Plasmavision monitors are available now, including the 50-inch P50XHA40US (MSRP: $8,999), the 42-inch P42HHA40US (MSRP: $6,999), and the 42-inch P42VHA40US (MSRP: $4,999). The 55-inch P55XHA40US will be available at the end of January (MSRP: TBD).