Cambridge Audio Audiofile Azur 640H
Cambridge Audio Audiofile Azur 640H
Filed under: Transports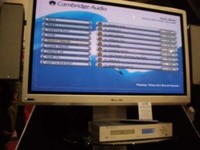 With the surging popularity of portable MP3 players, it is only natural that the same technology makes its way into the home with component systems. Cambridge Audio's Audiofile combines the same Wolfson DAC and filter from its popular 640C CD player with a mammoth 160 GB hard drive allowing the user to rip his favorite cd's and store 300+ uncompressed albums or 3000+ compressed albums right onto a single hard drive.
What makes the unit and technology exciting is the onboard ability to connect to the web and pull content like album art, track listings and music from online music providers. Locally, the connectivity is just as cool. The unit allows up to 4 devices to be wirelessly networked throughout the house for a whopping 640 GB of storage. One of the coolest features is a USB port on the front of the device to "PC-less" transfers to or from a portable MP3 player. Theoretically, you can store your entire music collection on the Audiofile Azur 640H and dump your favorites onto your iPod or other portable device from your "library" whenever you want. The unit was very easy to use and set up (again mimicking many of today's popular portables) with full system access from the onboard control panel or using the comprehensive on-screen display and remote control through a plasma screen or TV via composite, S-video or VGA OSD outs on the back of the unit.
It's wireless connectivity also means no holes in walls or tangles of network cables. It also comes with a function called "Muze" which will automatically search the web for album covers of any album you store on the Audiofile. This is a very cool display option at parties when you use the device in conjunction with a TV or flat panel monitor.
Playback formats supported:
uncompressed PCM (44.1K/16 bit & 48k/16bit)

Windows Media 9 (32-192kbs, 44.1k-48k, CBR or VBR)

MP3 (48k-320k)

AAC

W/SND/MPA/MP2/MP3
Connections:
Ethernet

3) USB v2.0/1.1

PS/2 mouse, PS/2 keyboard

RS232

IR emitter in and out

Control bus in and out

Composite video

S-Video

VGA

IEC mains inlet

S/PDIF coax digital out

S/PDIF optical digital out
Our overall impression of this product is that it is a massive "iPod-like" device for your stereo system... Expect a spring release for the unit at an MSRP of $1399. Check out www.cambridge-audio.co.uk .