Audioquest Instant Tool-less Connectors (ITC)
Audioquest Instant Tool-less Connectors (ITC)
Filed under: Cables and Power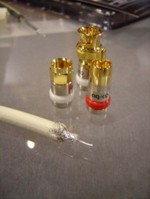 We visited Audioquest to see what was going on in the world of exotic cables and were very pleasantly surprised to see them at the cusp of a very cool tool-less cable technology for custom installers. Their ITC design invoves a choice of BNC, RCA or F-connectors which can then be pushed onto a stripped coaxial cable (RG-6). The connection seems to be rock solid, in fact we tried pretty hard to pull them off (as directed by Audioquest) and they wouldn't budge. There are teeth inside of the connectors that hold onto both the shield and the center conductor so its a nice connection. Assembly takes about 10 seconds if you're good with a coax stripper tool and I have to say, this is probably the coolest thing to hit the installer cable market in a long time. They even demonstrated to us that if you make a mistake or need to reterminate, you can cut the cable, grasp the jacket with a pliers and reclaim the connector for re-use. Nice.
While we were there we presented Audioquest with one of our G.L.O.B. cables in fun and they gratefuly accepted (photo below). They then went on to tell us about the new line of cables featuring their DBS System they are offering that sport two batteries instead of one - biased at 72V. Since UL approval is required in the United States on any device operating above 48V, we will keep you informed if and when UL approval is granted. Fortunately for the user, the batteries last as long as their shelf life since no current is actually being drawn.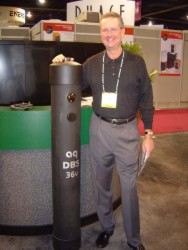 These cables and connectors are priced very reasonably, with a pair of RCA connectors retailing for around $10 (lower in quantity) and raw cable starting at around $0.50/foot. For more information, feel free to check out www.audioquest.com .