Accell Audio Video & Digital Cables
Accell Audio Video & Digital Cables
Filed under: Cables and Power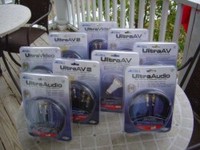 Accell Corporation, a provider of premium audio/video, computer, and digital imaging connectivity products, recently showed off to us their complete line of premium High-Definition Multimedia Interface cables as well as their premium analogue and coax digital cables. The availability of HDMI-enabled products is growing rapidly and expected to boom over the next year. Accell, an early supporter of HDMI, is a licensed member of the HDMI adopters group.
"The introduction of HDMI marks a significant advancement in home theater products and technologies," said Michael Weizer, Director of Marketing at Accell. "Consumers are excited about the new wave of high-definition products and we are positioned to become a favorite brand among audio and video enthusiasts. The introduction of the UltraAV series HDMI line is another example of how Accell is continuing to lead the market with new products."
We found the cables to be well-manufactured, with well-built connectors and connections that weren't too tight or loose. They are attractively packaged and available in just about any length that would be needed. In particular I appreciated the easily-accessible fasteners for screwing down the HDMI cables on projectors, resulting in a snug and secure fit. The audio cables are color-coded and even the RF cables seemed a notch above what you will find in the local hardware store.
In addition, Accell announced its new UltraAudio and UltraVideo product line targeting the Commercial and Residential Dealer/Installer markets. The new installer interconnects will include products that feature the latest in the advancements for fire suppression, including the use of Plenum rated cable. Plenum rated cable has superior flame retardancy and may be installed in air handling systems without expensive metallic conduit. These interconnects are available in a wide assortment of cable configurations in lengths up to 100 ft. Some companies cables fall out of specification or under perform at the longer lengths, however Accell assures that their cables are made of the highest quality materials, meeting or exceeding industry standards.
Accell's Commercial and Residential Dealer/Installer cables are package in self-shipping, re-closeable boxes to allow easy access to the cable as well as providing enhanced inventory control. This packaging eliminates wasteful, non re-closable interconnect boxes from ending up as non-sellable stock. For dealers/installers that use advanced inventory control methods, the preprinted barcode provides streamlined truck or warehouse inventory management.
Accell cables are made of high quality materials and advanced construction, providing exceptional performance and value. They are designed to provide sharp, clear and natural audio and video, fully optimizing the home theater experience.
For more information, please visit www.accellcorp.com .