Polk Audio Ships IP-Addressable Speakers
Polk Audio Ships IP-Addressable Speakers
Filed under: Loudspeakers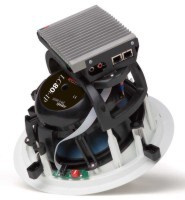 Polk Audio announced that the long awaited active TCP/IP addressable flush-mount loudspeaker systems will begin shipping to dealers shortly after CEDIA. Polk Audio first announced the concept and demonstrated a prototype speaker at CEDIA '04 to enthusiastic dealer and press reaction. The first models will finally begin shipping to retailers in October.
The line will initially consist of two models, the rectangular LC265i-IP and the round LC80i-IP. The products are flush-mount speakers based on Polk's existing LCi Series in-wall/ceiling models. Digital amplifiers, electronic crossovers, DSP circuitry and provision for TCP/IP control circuit boards are built into the speakers to deliver a wealth of demonstrable convenience and performance benefits.
The Polk IP loudspeakers have been developed in close cooperation with NetStreams to make use of NetStreams' StreamNet audio over IP distribution technology. With the addition of a StreamNet TCP/IP interface card, supplied separately by NetStreams, the Polk IP loudspeakers become an addressable node on a NetStreams DigiLinx IP network. The NetStreams TCP/IP StreamNet board is an open platform device that welcomes integration with any IP network or system. In addition, through the included analog inputs the Polk IP loudspeakers can be used without an interface or network card as a stand-alone, digitally amplified, software configurable loudspeaker system offering a high level of performance from a flush-mount system.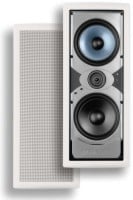 The speakers have integrated digital amplifiers, crossovers and a built-in Room/Performance optimization DSP so they are ready to be used with legacy analog inputs or as part of a cutting edge IP media distribution system.
The built-in digital amplifiers and crossovers bi-amplify (or tri-amplify in the case of the three-way LC265i-IP) the loudspeakers for more accurate, lower distortion audio performance while integrated Digital Signal Processing (DSP) electronics provide sophisticated sound tailoring to optimize the performance of the speaker for the room and speaker locations.
Integrators will be able to gain access to the DSP using a laptop PC connected via a mini USB port on the front baffle of the speaker or through the network when used in an IP network. Polk will supply Integrators with a PC-based software interface that makes the speaker position and room acoustics optimization virtually foolproof.
While the Polk LCi-IP Series speakers provide the greatest functionality when used within a NetStreams DigiLinX system, they can also accept inputs from any analog distributed audio system and still deliver significant performance benefits.
Polk Audio's LCi-IP Series models feature ring radiator tweeters and Aerated Polypropylene cones. These are the same technologies used in Polk's critically acclaimed LSi Series loudspeakers to deliver the performance of stand-alone models. The rectangular model features Polk's patented Power Port technology and available Performance Enclosures for consistent, high performance bass response.
The three-way LC265i-IP has an MSRP of $1500 each and the LC80i-IP carries an MSRP of $1200 each. The required SPS-1 Power Supply has an MSRP of $800 each. A single SPS-1 can power up to one pair of LC265i-IP or two pair of LC80i-IP speakers.
For more information, please visit www.polkaudio.com .