Epson Home Theater Front Projectors
Epson Home Theater Front Projectors
Filed under: Projectors & Screens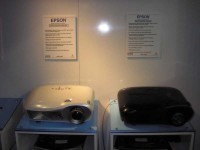 Epson is launching three additional 16:9 widescreen-format front projectors that are optimized for home entertainment, including two 720p HD-resolution models designed for high-end, home theater installation customers. Both the PowerLite Cinema 550 and PowerLite Cinema 800 will be available in October through authorized Epson dealers.
Epson CrystalPRO™ HD Displays Featuring True 1080p Native Resolution
In addition to its full line of front projectors, Epson is introducing two unique rear projection HD displays that achieve true 1080p native resolution. Available in 55 and 65-inch screens, the new Epson CrystalPRO HD displays represent the company's most advanced display products to date and are the first to use Epson's new 1080p 3LCD OptiFocus optical engine.
All of Epson's new projectors feature both horizontal and vertical lens shift - making them extremely easy to install and set up. "Some projection companies today are claiming they achieve 1080p performance using part-time imaging or virtual pixels that create the illusion of seeing 1,080 full-time vertical lines of resolution," said Jodi Maugham, product manager, Home Entertainment Division, Epson America. "Epson's new 3LCD engines deliver true 1080p resolution, which means there are actually 1920 x 1080 pixels on each of the three LCD chips. The end-benefit for consumers is full-time color and full-time resolution that gives them superlative high-definition detail and accurate color performance."
Epson PowerLite Home 20: This entry-level 480p native resolution projector comes equipped with everything necessary to enjoy big screen movies, video games, televised events, PC use and more, for $999 (estimated street price). It achieves a 1000:1 contrast ratio and up to 1,200 ANSI lumens of brightness, provides optical/offset lens shift for easy setup without distortion, automatic aspect ratio adjusting, six preset color modes, and short-throw flexibility, enabling an 80-inch image to be projected from just 6.6 feet away. The projector also includes an 80-inch, pull-up, floor standing, 16:9-wide screen that is portable and easy to store within its compact, self-housing carrying case. This model will be available in October through select retailers and via http://www.epsonstore.com/ .

Epson PowerLite Cinema 550: For more discerning video enthusiasts or professional home theater builders, this projector delivers 720p native resolution for premium HD performance. Priced at $2,499 (minimum retail price), it features several advanced video processing capabilities including seven color modes, up to 3000:1 contrast ratio and 1,400 ANSI lumens of brightness. It also includes HDMI connections, new video noise reducing technology, cinema filter to provide accurate colors and rich blacks, customized gamma and six-axis color adjustment, vertical/horizontal sharpness adjustments and more.

Epson PowerLite Cinema 800: Epson's flagship home theater projector offers the same features as the PowerLite Cinema 550, but achieves a 5000:1 contrast ratio with 720p native resolution, 1,600 ANSI lumens and 10-bit color to project more than one billion colors. Priced at $4,499 (minimum retail price), this projector also offers ISF-certified (Imaging Science Foundation) calibration and advanced IR/RS-232 controls.
Both Epson CrystalPRO HD displays achieve 5000:1 contrast ratio. They are constructed with sophisticated, glossy black exterior designs with space-saving dimensions that make them ideal for built-in cabinet designs. Other key features include 10-bit, 3D Digiscan digital video processing, multiple screen modes, built-in 30-watt (15x2) amplifier for external speakers, pre-set and customizable color modes, 3D graphic user interface, and multiple input sources including two HDMI ports, PC input and RS-232 controls. Epson CrystalPRO HD Displays will be available in January 2006.
For more information please visit www.epson.com.