Yamaha RX-Z9 Receiver, DPX-1100
Yamaha RX-Z9 Receiver, DPX-1100
Filed under: Receivers, Processors, and Amps
Yamaha RX-Z9 9.1 Channel Home Theater Receiver - Retail is $4,500


Yamaha RX-Z9 9.1 Channel RX-Z9 A/V Receiver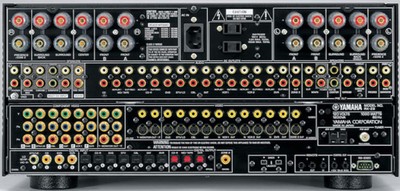 Yamaha RX-Z9 Back View
Key Features
• WBT Speaker Terminals
• Massive 1.2 KVA Transformer and 2 x 28,000uF 80V power supply capacitors
• 8 Channel external decoder input terminals
• 170wpc x 7, 50wpc x 2
• YPAO (Yamaha Automatic Parametric Room Acoustic Optimizer)
• iLink (Audio) for DVD-A/SACD
• Fixed and assignable I/O's
• DCDi Processing by Faroudja
• HDTV 720p/1080i Compatible Video Output
• Noise Shaped Video
• Image Adjustable
• Digital Video Up and Down Conversion
Yamaha MX-D1 Digital Amplifier - Retail is $4,000
The MX-D1 is targeted to audiophiles who seek high-quality stereo sound with powerful capabilities such as high-end multi-channel surround systems, custom installation applications and Yamaha's advanced digital amplification technology to deliver 500W per channel (THD = 0.003%; dynamic range = 120dB).
In addition, the MX-D1 uses Yamaha's proprietary power engine chipset featuring the YDA133 modulator LSI and two YDA134 Power MOS drive LSIs. Its innovative technology includes a constant gain PLL modulator circuit, a cross feedback loop circuit, an advanced analog feedback, an active power control system, a direct drive high-efficiency power supply, a magnetic coupling rectification circuit and high-speed protection circuits. It also features twin monaural independent construction (independent chambers to prevent interference) and a low-noise, low-impedance design. Input and speaker connections are made via large-size WBT terminals. A sleek, low-line design (only 60mm high) and an elegant gloss black finish make the MX-D1 visually appealing and an ideal addition to any existing setup. Optional accessories include the YPC-1 passive attenuator, a separate unit with input selection and volume control, to maximize the sound quality of the MX-D1.
Yamaha YPC-1 Passive Preamp - MSRP $1,500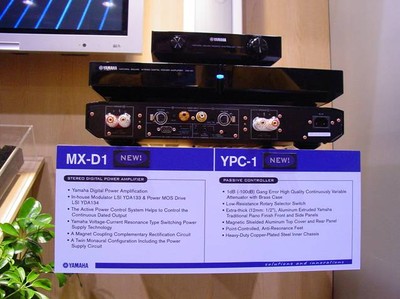 Yamaha YPC-1 Passive Preamp resting on two MX-D1's
Yamaha trickle down technology incorporates similar digital amplification technology from their statement piece MX-D1 into an affordable multi channel receiver (RX-SL100).
Yamaha DPX-1100 DLP Home Theater Projector - MSRP $12,000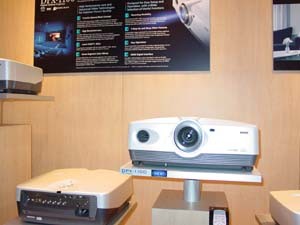 Yamaha DPX-1100 DLP Home Theater Projector
Key Features
• 4000:1 Contrast Ratio!!!
• 1000 ANSI Lumens
• 75 ohm BNC and VGA Inputs
• Active HDMI interface
• Texas Instruments HD2+ DLP Chipset
• 7 Segment DLP Color Wheel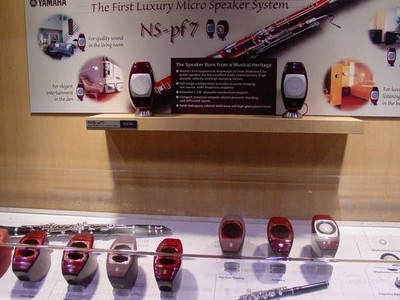 Yamaha NS-pf7 Micro Speakers ($599/pr)
Sometimes it isn't cheap to be stylish as Yamaha displays here.  These little gems are constructed of solid mahogany cabinets, and their finish is second only to their legendary grand pianos.