WMVHD High Definition Video
WMVHD High Definition Video
Filed under: Technology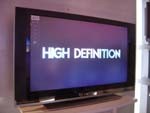 Microsoft has been making its own path into the high-definition DVD market for quite some time now. We were able to see a demo of WMV HD on a very nice plasma display (at 720p) which was simulcast on a computer LCD monitor at 1080p (yes, that's 1080 p - ah, the wonders of PC video cards). The format is impressive and is a definite improvement over standard 480p DVD output. Apparently, Microsoft's codec is able to produce incredibly clean high-resolution video with a bandwith of only ~8 Mbit/s. The MS rep seemed to feel that Microsoft is a contender for the HD DVD "war" primarily because they have a solution that already works... trouble is, I'm not sure a singularly PC-based solution is the answer. At least not until grandma and grandpa are buying home theater PCs at Best Buy. Some quick points of interest:
720p and 1080p support
Roughly 6x the resolution of DVD video
Windows Media Audio Pro (WMA Pro) allows for delivery of 5.1 and 7.1 surround content
Authoring solutions available from Playground, Sonic, Canned Interactive, InterActual, Mastery, and Shanghai Broadcasting Laboratories
Digital Rights Management (DRM) available from SyncCast and Macrovision
Testing and authoring companies are in place to produce content and test final DVDs
Addendum: According to some feedback we've been receiving (thanks, Wayne) WMV is trying to get DVD makers to license WMV technology so that DVD players are sold with WMV decoders. This is similar to how DVD players have MP3 decoders, and are now starting to appear with Divx decoders. What this would do is allow HD using the existing DVD structure - the problem is, you may not be able to fit one whole movie at 1080p on one DVD.
Software is always the breaking point, so we'll have to wait and see what happens.