Von Schweikert and Rives Audio "Virtual or Reality" Demo
Von Schweikert and Rives Audio "Virtual or Reality" Demo
Filed under: Loudspeakers
Von Schweikert VR-11 ($100K+) overshadowing Clint and all of our bank accounts. Christopher Huston Sr. Acoustical Engineer for Rives Audio transformed an acoustically challenged hotel conference room using RPG acoustical treatments into something more palatable to properly demonstrate the VR-11's. Note the high end analog mixing desk featuring a DSD encoder to record a live performance in SACD to be played back and compared to the VR-11's. Only the highest quality recording gear was utilized, including highly regarded Germen made tube microphones.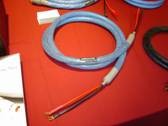 For those who pray to their cables, Acoustic Zen was present to supply all interconnects and speaker cables for the set-up. To quote the President of Acoustic Zen "No cable, no sound, bad cable bad sound". We were unable to determine if the Acoustic Zen cables were good or bad, based on their lack of published specifications in their marketing literature and supportive subjective reviews. They sure were pretty however, and would certainly dress up a high end system nicely.
We spent nearly two hours with Von Schweikert and their audio consortium from a personal invitation of a press release breakfast (consisting of croissants and coffee) to hear about their experiences in high end audio design and implementation. It was obvious that this team consisted of passionate audiophiles dedicated to delivering as close to a live performance as possible, price no object system. Mr. Von Schweikert's challenge was to have a live band perform in front of the audience, record the performance, and play it back on this ultra high end mega system to determine if the listener can hear a difference. Unfortunately we were unable to confirm this, since a separate meeting was required for the actual demo! Time being so precious giving the broad coverage we are providing, and the difficulties in reaching all of the vendors, we were unable to attend this demo. Perhaps next time they'll be able to fit in a brief demo in addition to the hour and a half PR showing. However, stay tuned for Von Schweikert loudspeaker reviews from us coming soon.
Additional Photos
Von Schweikert dB-99 ($7500/pair) is geared for the low wattage Single Ended Tube Amplifier market with an unusually high sensitivity of 99dB SPL @ 1 watt/meter.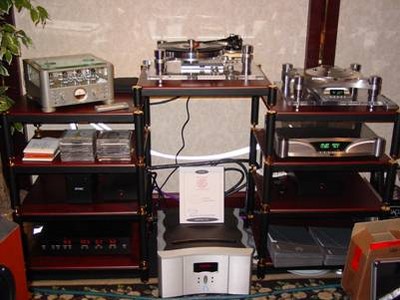 Reference gear courtesy of: VAC Phi 2.0 Master Control Preamp, Oracle CD 2000 Transport, CD 2500 Player, the Delphi Mk V Turntable, and the Rives Audio PARC PEQ to optimize bass response of the VR-11's.