Toshiba HD DVD Technology
Toshiba HD DVD Technology
Filed under: Technology
Saturday, January 10th, our third day of coverage on CES 2004 started off with a technical 'bang'. We've been waiting for HD DVD, and Toshiba did a great job of showing lots of info on the new spec. There's much to be revealed, and below is some info that will get you up to speed on some of the details involved.
Talk about your prototype technology. At best, Toshiba's new HD DVD technology should arrive in a player near you circa first quarter 2005. Personally, I can't wait. We're fans of this format, not because it is the best quality format, but because it actually has a chance of making it to market quickly with sufficient software support. The HD DVD format, as opposed to the Blu-Ray standard, involves minimal changes to the manufacturing plants that currently produce DVDs. To us, this means that the major movie production houses will more easily adapt tothe new format and generate the much needed content to make the new format float quickly. Here are some of the key features of HD DVD:
Total compatibility with present DVD (same disc structure: back-to-back bonding of two 0.6mm substrates)
Low cost disc manufacture (current manufacturing equipment can be used)
High density (PRML signal processing technology & land/groove recording method for rewritable disc)
Supports slim drive units (no disc cartridge required, single objective lens)
Ready for the PC and AV applications (Uses the UDF format, the same as DVD)
Blue Laser HD DVD Specs
Maximum optical output: 200mW (at 25 degrees C)
Relative intensity noise: -132 dB/Hz
Threshold current: 35 mA
Operation current: 164 mA (at 200mW)
Max. operational case temperature: 100 degrees C
HD DVD Specifications


Read-Only
type (per side)
Rewritable
type (per side)
User data capacity
Dual Layer
30GB
32GB
User data capacity
Single Layer
15GB
20GB
File Format
 UDF
User data rate
 36.55 Mbps
Disc size
Diameter: 120mm
Thickness: 1.2mm (0.6mm x 2)
Laser wavelength
 405nm
N.A. of objective lens
 0.65
Read signal processing
 PRML
Modulation code
 ETM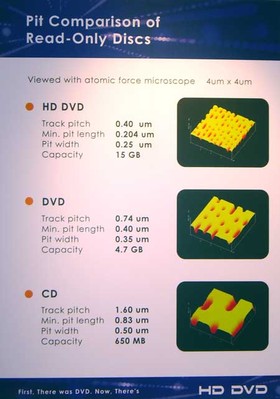 Toshiba showed off two units including a DVD player and DVD recorder. Both units are obviously pre-beta in anticipation of the approved format. We look forward to the advancement of HD DVD (or any format that improves on the current now-anemic DVD spec).