Top Ten Reasons to Wear Slippers at CES
Top Ten Reasons to Wear Slippers at CES
Filed under: Editorials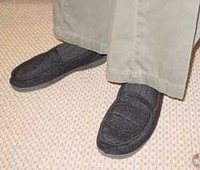 Clint wore slippers for the entire duration of the CES 2004 show, setting both a new fashion trend and new level of comfort not expereinced previously at CES. Next year we'll all be wearing slippers and are contemplating handing Audioholics-branded slippers out to vendors and clients! Below, we outlined the top ten reasonos to wear slippers at CES:
10) Comfort, comfort and comfort!
9) Useful for hours of standing in lines waiting for busses and taxis to move between locations.
8) Reduces frustration levels while walking to get to specified areas in order to stand in line for taxis and busses since most of the times they do not run near venue locations.
7) Dampens sonic vibrations due to overdriven subwoofers in demo rooms.
6) Eases walking chore to get badges. This consists of starting in the front entrance, taking a bus to the back entrance to get the registration badges, and walking through the entire Las Vegas Convention Center to go back to the front entrance and pick up the "special" badge holder that no-one seemed to know about.
5) Makes it a pleasure to walk away from snake-oil vendors.
4) Sets a new fashion trend.
3) Makes high heel-wearing women jealous.
2) Reduces "skin effect" on bottoms of feet.
1) You're ready for bed when you walk back to your hotel.