Sherwood Newcastle Products
Sherwood Newcastle Products
Filed under: Receivers, Processors, and Amps
Sherwood Newcastle Products
During our running through CES 2004, we managed to find our way over to the Sherwood booth.  We were most impressed by their introduction of the new Sherwood Newcastle P-965 AV Processor and A-965 7-channel amplifier.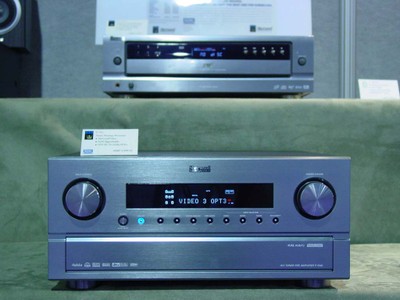 Sherwood Newcastle P-965 AV Processor - Retail $1,499
DTS-ES Discrete and Matrix
DTS-96/24; DTS NEO-6
Dolby Digital EX
Dolby Pro Logic IIx fully adjustable
Dolby Virtual Speaker
Dolby Headphone Layers 1, 2, 3
Digitally Re-Masters PCM to 192 /24
192 kHz 24-bit DAC's for all channels
Pure Analog Mode; Pure Digital Mode
Selectable Bass Crossover frequencies
Upgradeable operating system
Universal Video upconverts composite and S-Video to Component Video
5 Optical and 2 Coaxial Digital Inputs
Optical Digital Output
On Screen Display (from all video outputs)
RNC-500 Remote Control
Programmable Video Input Labeling
24-Bit CS-49400 Crystal Processor
12 DSP Modes
7.1 channel direct input with bass management
Sampling Frequency Display
Room 2 A/V Output with fixed/variable audio level, S-Video and coaxial digital
IR control with 2 inputs and 1 output
Dedicated Room 2 Remote
2 Video Record Out Selectors
Two 12-Volt Triggers, one is user assignable
3 Component Video Inputs switched by relays for unlimited bandwidth
5 Rear Panel Audio/Video Inputs
6 Audio Inputs with Phono
Front Panel A/V Input
Cinema EQ
Tone Defeat
Channel Level Memory
Advanced 4-gang FM tuner
30 Station Presets
Digi-Link III
Sleep Timer
Aluminum Front Panel
With so many features, the Sherwood Newcastle P-965 A/V processor may be a great option for those looking for separates without breaking the piggy bank.  This processor, coupled with the Sherwood Newcastle A-965 amplifier, will retail together for just under $3,000!
Sherwood Newcastle A-965 7-Channel Amplifier - Retail $1,499
Designed for Low Impedance Loads
All-Channels-Driven Power 20 Hz-20kHz
100 Watts per channel (x 7) into 8 ohms
160 Watts per channel (x 7) into 4 ohms
THD < 0.02% from 20 Hz-20 kHz, 8 ohms
THD < 0.09% from 20 Hz-20 kHz, 4 ohms
2 Toroidal Power Transformers
7 Separate Discrete Amplifier Modules Built as 7 Separate Monoblock Amplifiers
Totally Discrete Amplifier Stage for All Channels
Gold Plated Inputs
Heavy-Duty Speaker Binding Posts compatible with bare wire, banana plugs and spade lugs
Remote turn-on via 12-Volt external input
Aluminum Front Panel
Amplifier Features
Dynamic Headroom, 8 ohms, 1.5 dB
Dynamic Power (EIA Standard Rating)
300 watts per channel, 4 ohms
480 watts per channel, 2 ohms