RBH Sound, Inc Loudspeakers
RBH Sound, Inc Loudspeakers
Filed under: Loudspeakers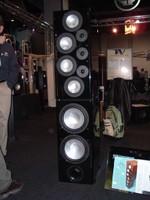 For the past four years we have known RBH Sound via phone conversations and product evaluations only. It was refreshing to finally place faces with voices of the RBH Sound team.
The massive Signature T-2 System (review forthcoming) in piano gloss finish. Shane Rich put on quite an impressive demo at their dedicated room in Alexis Park. The room was rocking with guitar solos ranging from legendary jazz musicians to rock and roll. We were particularly impressed with the almost endless dynamic range we heard from a Patricia Barber CD during explosive drum solos.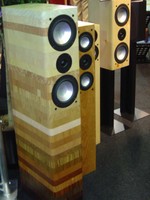 Shown here is an RBH Sound Signature 1266-SE tower speaker flaunting all of the custom veneer finishes. The wealth of finishes ensures a seamless blend for any room décor. The picture of the 1266-SE shown on the left is of a display model present the many custom veneer finishes available on the RBH Signature Series on a single model - so don't fret, it's not intended to be a retail speaker with a goofy finish. Although, it did look sort of cool up close!
All in all RBH are some of the most underrated speakers we've ever listened to. A funny story to note was that we we bumped into a person leaving the Alexis Park RBH demo room who casually asked Shane: "So these go for what, around $70,000?" He was referring to the T-2P system he just spent the last 15 minutes listening to.
The actual MSRP is $7,499/pr in black or $9,499/pr with a custom finish.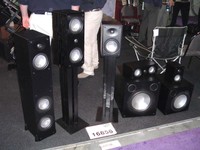 The newly revamped RBH Sound MC Mark II series. Pictured from left to right: MC-6CT ($999/pair), MC-616C, MC-6C($720/pr), MC-414C($379/ea), TS-12AP($850/ea), MC-4C$(399/pr), TS-10A($650/ea).
Distinguishing features of the MK II series:
• Resonance Damping Alloy Baffle (RDAB)
• MDF cabinet construction
• Aluminum cone woofers and metal dome tweeters
• Computer optimized crossover networks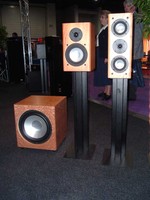 Pictured from left to right: the new RBH Sound Signature 1212-SE($2500/ea) subwoofer (review forthcoming), 61-SE($1200/pair), 441-SE($620/ea). The 1212-SE subwoofer features the Tuned Aperiodic Venting (TAV) system which is said to bridge the gap between vented and sealed subwoofer design.

TAV technology shifts the tuning to a much lower frequency than would otherwise be possible in a small enclosure, lowering distortion and improving transient response.
In walls anyone? RBH Sound offers one of the largest selection of in-wall speakers we have ever seen. While they look particularly good mounted on plexi, we recommend setting these in a nice solid wall... :-)
RBH Sound even has an in ceiling speaker with its own enclosure to minimize wall resonance.
RBH Sound TI-6100 (T1 equivalent in-wall)
SI-760 (661-SE equivalent in-wall) ($1150/pr)
SI-740 (61-SE equivalent in-wall) ($800/pr)
RBH also offers custom in-wall and in-ceiling subwoofers (not shown):
MCS-88 (dual 8" subwoofer retrofitable) ($380/pr)
SI-10 10" in-wall subwoofer ($450/ea)
SI-12 12" in-ceiling/floor subwoofer ($480/ea)

RBH Signature 641-SEs
For those looking for a smaller footprint tower in the RBH Sound Signature Series, these are a great option.
Technical specs

| | |
| --- | --- |
| System Type: | Tower |
| Frequency Response: | 45Hz-20kHz (+3dB) |
| Sensitivity: | 85dB (2.83V @ 1 Meter) |
| Power Handling: | 180 Watts |
| Drive Units: | (2) 6 1/2" Aluminum Woofer |
| | (1) 4" Aluminum Woofer |
| | (1) 1" Silk Dome Tweeter |
| Tweeter Protection: | Yes |
| Crossover Frequency: | 150Hz, 3000Hz |
| Crossover: | 12dB/Octave |
| Impedance: | 4 Ohms |
| Cabinet Material: | Medium Density Fiberboard (MDF) |
| Cabinet Finish: | Black Oak Woodgrain with NevamarT tops and bases, or 30 different real hardwood finishes |
| Dimensions: | 39"H x 6 3/4"W x 10"D |
| Weight: | 43lbs (each) |
For more product info, visit RBH Sound .