NHT DSP-1 Fully Digital Audio Speaker System
NHT DSP-1 Fully Digital Audio Speaker System
Filed under: Loudspeakers
NHT DSP-1 Fully Digital Audio Speaker System
This system really caught our attention for the following reasons:
Real time room correction powered by DEQX.
Fully integrated Digital Crossovers adjustable for up to 100dB slopes.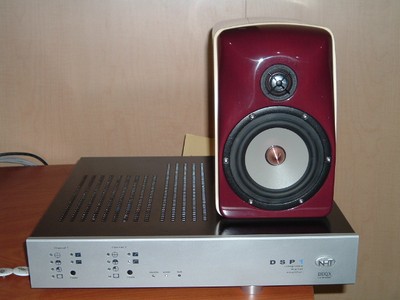 NHT DSP-1 Fully Digital Audio Speaker System

We have always dreamed of the day when a loudspeaker manufacturer would develop a cost effective speaker system that incorporates no analog crossovers in the loudspeaker and does all of the filtering in the digital domain, with optional active room correction for the active subwoofers. An active subwoofer will be included in this package.
Here is a brief description of NHT DSP speaker project J.D. NHT 1-14-04
DSP satellite
Small, attractive, very low distortion system.
High quality European drivers. 5-1/4" woofer, 1" tweeter.
Baffle shape optimizes dispersion characteristics of drivers to provide smooth frequency response on axis and off axis.
Designed to be used from 80Hz to 20kHz.
Prototype shown at CES – drivers and cosmetics are not finalized.
Subwoofer
Small form factor. Two 10" drivers.
Wireless and standard (wired) inputs (wireless system is digital and follows 802.11 protocol).
Two channel wireless system allows two subs to receive different signals for stereo bass.
Powered system – 500 watt switching amp.
DSP processor/amp
Driver frequency and phase response correction and linear phase crossover accomplished with proprietary low latency digital processing.
System is bi-amplified. 600W power supply and 4 high efficiency (low heat), low distortion digital amps included.
Boundary controls on front panel so that frequency response of system can be easily optimized based on room position.
USB and microphone inputs on unit so that advanced users (installers) can access the DSP software directly for room correction.
Prototype shown at CES – cosmetics are not finalized.
Overall, the system is designed to be easy to use and as accurate as current technology allows.