Mission USA Speakers
Filed under: Loudspeakers
Mission USA is Mission's first foray into the United States as an incorporated domestic entity. Founded in 1977, Mission has been making speakers for over 25 years. This is the first time Mission will have a direct presence in the United States as opposed to just having its products imported. They will, of course, continue to operate out of their Cambridgeshire, England location where they will design and produce their speakers. We were impressed with both the design and build quality of the speakers featured at CES. The new line of speakers are new and made specifically for the US market. They include the following lines: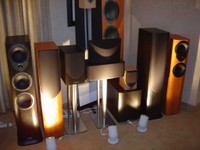 Mission m3 Series Loudspeakers
The m3 Series are positioned at an affordable price point and are geared for "entry level" users who wish to get Mission products at a good value. There are ten (yes, ten!) speaker models that are available in 3 finishes: Graphite Black, Beech, or Cherry. The Cherry is particularly beautiful and the speakers overall look to be a good starting point for those who are familiar with Mission speakers and wish to get into that brand. The pricing of the m3 series is below:
| | |
| --- | --- |
| m30 2-way bookshelf, MSRP $199 | m35 3-way extended bass, MSRP $899 |
| m31 2-way bookshelf, MSRP $249 | m3c1 center channel MSRP $199 |
| m32 2-way bookshelf, MSRP $349 | m3c2 center channel, MSRP $299 |
| m33 2-way tower, MSRP $499 | m3ds di-pole, MSRP $399 |
| m34 2-way tower, MSRP $699 | m3as subwoofer, MSRP $599 |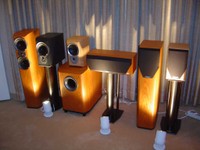 Mission volare Series Loudspeaker
The volare series is Mission's new "mid level" US line. The US version of this line includes the new Paramid Drivers, specially developed for low resonance and high rigidity. They utilize a sandwich of aramid fiber and pulp paper, which Mission says results in a better midrange performance and stronger, cleaner bass output.
While we were unable to listen to these speakers, our impression of this new line based on the build quality and looks was good. These are very nice speakers that pass the knuckle rap test and have decent potential to be solid performers in the real world. The series is priced as follows:
v60 2-way bookshelf, MSRP $549
v61 2-way bookshelf, MSRP $749
v62 2-way bookshelf, MSRP $1,099
v63 2-way tower monitor, MSRP $1,349
v6c Center channel, MSRP $449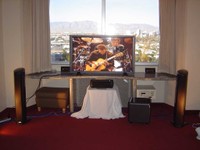 Mission elegante Series Loudspeakers
Last, but not least, Mission demoed their elegante loudspeakers, featuring the e82 system (with the e82 towers). These speakers are well built (see the photo below) and have a beautiful piano gloss finish. Strongly influenced by the flagship Pilastro loudspeakers, the elegante line has a similar tapered shape and glossy appearance. All systems are made available as 6.1 configurations, but are easily upgraded to 7.1. The Mission demo consisted of an Eric Clapton DVD Video track which we felt probably didn't show off the speakers as well as they could due to the rather compressed Dolby Digital track and "busy" mix. Even with this, we loved the way the subwoofer literally melted into the mains for an almost transparent and non-overbearing subwoofer response. As many of the CES demos overemphasized the subwoofer level, this was a welcome setup.