Intel LCOS Technology
Filed under: Technology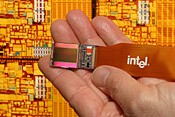 Intel followed up their recent press release with a showing of their new LCOS display technology which will enable high quality HDTV picture quality at high-volume (~$1000) price points. In our opinion, this is going to saturate the market with a much needed HDTV revolution which should , in turn, produce a greater demand for high definition content.
Editor's Note (2005): Intel dropped out of the LCOS business shortly after this announcement. The technology has yet to be fully revived and most certainly has not accelerated to the status of low cost leader - instead it is positioned as a higher-end alternative to LCD or DLP.
For a basic idea of LCOS, it is a liquid crytal layer on top of a pixelated, highly-reflective substrate. Below the substrate is a backplane that includes the electronics to drive the pixels. The backplane and liquid crystals are combined into a panel and packaged for use in a projection subsystem or "light engine."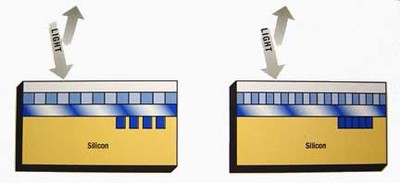 With LCOS, more pixels can be added to the same size, similar cost panel, without negatively impacting performance.
Some basic info on the new LCOS chip technology
Picture quality: 720p (1280 x 768 pixels), 1080p (1920 x 1080 pixels)
Higher contrast images
large format, thin and light widescreen displays sans noticeable "pixel structure"
Competitive high-volume consumer price points
Advantages of LCOS Technology
Price/performance advantage over HTPS and DMD
Smaller pixels than other microdisplay technologies
Displays can scale to 1080i/p resolution (1920 x 1080) and beyond
Will this be the "next big thing" in display technology? We think probably so and will be sure to follow manufacturers as they move forward into production.