Integra New Products
Filed under: Receivers, Processors, and Amps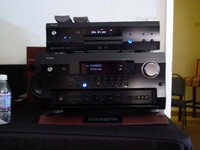 DTR-10.5 A/V Receiver and DPS-10.5 Universal Player
During our Day-2 coverage of CES, we were pleased to announce the new line of Integra Research products. Today, we are equally pleased to inform you of the AWESOME new line of Integra products. These include the new, mighty DTR-10.5 "Built-To-Order" THX Ultra2 Home Theater Receiver and DPS-10.5 THX Ultra Certified Universal DVD/CD Player. These new models, along with the Integra Research models, are some of the first Home Theater products to include an HDMI input and output that includes Dolby Digital Surround, Dolby Digital EX and DTS-ES audio. Competitive units we've seen during the show seem to be only offering 2-channel audio output from the HDMI. Another extremely exciting feature with these products is that they include BNC video connections between the Universal Player and Receiver. Note; this is critical as you can now use a true 75-ohm cable to hook your DVD player to your receiver and Monitor (provided your HDTV monitor has BNC). Integra and Integra Research are one of the few companies we've seen at CES to have this feature!
DTR-10.5 "Built-To-Order" THX Ultra2 Home Theater Receiver MSRP $3500 (base)
The DTR-10.5 Receiver is the World's first card slot, upgradeable 7.1 channel, "Built-To-Order" A/V receiver and is based on the same cards as the Integra Research line. We are also the first to show you what's under the hood for these products, as seen in the following pictures.
DTR-10.5 Amplification
• THX Ultra2 Certified 7ch Amplier
• 150-Watts x 7 @ 8-ohm
• WRAT-Wide Range Amplifier Technology
• Linear Optimum Gain Volume Circuitry
DTR-10.5 Processing
• THX Surround EX 7.1 Processing
• Dolby Digital EX and Pro Logic IIx
• DTS and DTS-ES, DTS Neo:6, DTS 96/24
• Dolby Headphone and Dolby Virtual Speaker
• Dual 32-Bit DSP Chips for Main and Zone 2
• VLSC-Vector Linear Shaping Circuitry
• Non-Scaling Configuration
• PC Set-up Application available via Ethernet and RS-232
• Wolfson 192 kHz/24-Bit D/A Converters for All Channels!
• Composite and S-Video Up-conversion to Component Video
DTR-10.5 Connections (including optional cards)
• High Definition Multimedia Interface (HDMI v1.0) – 2 In/1 Out for HD Video and Dolby Digital/DTS/PCM Audio over a single cable
• iLink (IEEE-1394 or Firewire) – Digital Input for DVD-Audio and SACD
• True 75-ohm BNC progressive component input and output
• Three Zone Multi-room Capability
• Ethernet for Net-Tune Streaming Audio
• Bi-Directional RS-232 Port
• Five Assignable 12-VDC Trigger Outputs
• Independent IR inputs for all 3 zones w/12VDC for IR receiver
• Speaker A/B for all 7.1 channels
• Bridging and Bi-Wiring Capable for FL/FR using SBL/SBR
• 13 Digital Inputs
• 4 Digital Outputs
• Color-Coded 7.1 Multi-Channel Inputs
• Hardware and Software Upgradeable for Future Additions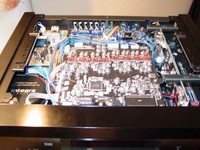 Integra DPS-10.5 Universal Player MSRP $2500
The Integra DPS-10.5 THX Ultra Certified Universal Player which will retail for around $2,500, looks like it's going to take the world by storm. This seems to be one of the only DVD players to offer Dolby Digital output through HDMI. Not to mention the build quality that can bee seen from the picture below.

The robust build and internals of the DPS-10.5 Universal Player is not just simply for show. A high current torroidal transformer and robust power supply will ensure that all circuits perform at their best. The rigid aluminum chassis, integrated stabilizer network, and solid aluminum feet contribute to a beefy platform that will reduce vibration during room-shaking playing.
Integra DPS-10.5 Universal Player General Information
• THX Ultra Certified
• DVD-Audio and Super Audio CD Playback
Integra DPS-10 Universal Player Processing
• Dolby Digital and DTS Decoder
• Exclusive Dual Direct Digital Path
• VLSC – Vector Linear Shaping Circuitry
• Wolfson 192kHz/24-Bit Audio D/A Converters
• Analog Devices 216 MHz/14-Bit Video DAC
Integra DPS-10 Universal Player Connections
• High Quality HDMI Audio and Video Output for HD Video and Dolby Digital/DTS/PCM
• iLink (IEEE-1394) Digital Output for DVD-Audio and SACD
• True 75-Output BNC progressive component output
• RCA Interlaced component output
• Optical and Coaxial Outputs
• S-Video and Composite Outputs
• Parallel Outputs – All Outputs Active (including both progressive and interlaced component video.
• 7.1 Multi-channel Analog Outputs
Integra DPS-10 Universal Player Video
• OPlus FlexScaling for Upconversion to High Definition (HD)
• HD Output via HDMI – 720p / 768p / 1080i
• Silicon Image Deinterlacing w/ 3:2 Pulldown and "Veridic" Progressive Scan
• S-video and Composite Input for Scaling of External Sources
Integra DPS-10 Miscellaneous Information
• Plays DVD-A & Video, SACD, CD/DVD R/RW, JPEG CD, MP3, VCD
• MP3 Playback with Onscreen Display
• Title/Chapter/Track/Group/Folder/Disc Repeat
• Onscreen Display
• Slow Motion DVD Playback\
• 4-Mode Display Dimmer
• Video Circuit On/Off Control
• Rigid Aluminum Front/Side/Top Panels and Stabilizer Bar
• Backlit, Preprogrammed & Learning Remote with Mode-Key LEDs