Epson Livingstation
Filed under: Displays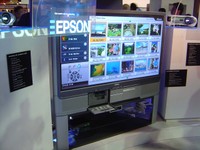 This is probably one of the hottest items at CES this year, at least according to the number of people located in the Epson booth this year. It was perhaps surprising to hear that Epson, known for its projectors and printing systems, decided to launch an LCD-based rear projection television with some very impressive features:
Available in 47" and 57" models
Poly silicon TFT 3-LCD RPTV
Approximately 15-16" deep
2 NTSC tuners
800:1 contrast ratio
HDTV-ready (720p) with native 16:9 support
DVI-D/HDCP, component (2), s-video and composite inputs
Memory card support for SD, Memory Stick, Compact Flash, and SmartMedia
3D Y/C separation, 3D digital noise reduction, 3D gamma correction (comb filter)
130 degree wide and 48 degree tall viewing angle
10,000 hour (expected) lamp life
And now the more outstanding features
Photos on demand - built in 300dpi dye sublimation 4x6 printer
110 second print speed
20 sheet photo capacity
External Plextor CD-R/RW drive (PX-W5232TU)
2-year in-home parts and labor warranty on the RPTV, 2-year exchange on printer and CD-R/RW
With the Epson Livingstation, you can grab screen captures of television, print photos from your camera's memory card, or even print pictures that you've stored or received on CD-ROM. The obvious advantage here can be seen by anyone who has tried to choose and print photos based on a small preview or the camera's LCD 2-3" display. With the printer being integrated into the LCD RPTV, you can view, print or select pictures using a high resolution "full size" display.
We felt this RPTV was a step into the future, but not so fast as to be irrelevant or too far ahead of its time. The day of integration has come and Epson has taken the lead in providing a needed solution to a common situation.