Denon AVR-3805 and Prototypes
Denon AVR-3805 and Prototypes
Filed under: Receivers, Processors, and Amps
We were able to take a good look at the Denon AVR-3805 receiver at CES 2004 and were duly impressed. From its three sets of 100MHz assignable component level inputs to Denon Link 3 integration and HDCD support.
Probably the biggest announcement is that the AVR-3805 comes with Auto Set-Up which analyzes and calibrates speaker connection, phase, size and frequency response. Also, the AVR-3805 adjusts channel level and time delay, while Room EQ corrects frequency response with an 8-band parametric equalizer (and adjusts to the optimum soundfield, compensating for speaker and room capability issues.) Your mileage on automatic room correction may vary, but we look forward to testing out Denon's Auto Set-Up functionality and feel that this type of feature is excellent for many consumers.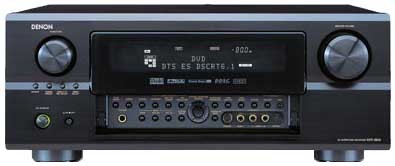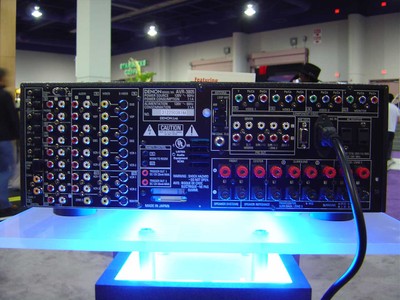 Denon Sneak Peek Preamp, Processor, Digital Amplifier and Reference Universal DVD Transport
We'll be meeting with Denon on Day 4, but we couldn't resist posting these sneak peek photos of Denon's next generation processors, amplifiers and DVD transports which could potentially redefine high-end audio.




AVP-1x
Studio Reference
Video Preamp
* DVI (HDCP) Switching
* HDMI Switching
* Video Up-Conversion
AVP-1x
Studio Reference
Audio Preamp/Processor
* THX Ultra2
* Dolby Pro Logic IIx
* Balanced Outputs




POA-1x
Studio Reference
7-Channel Digital Amp
* 200W/ch x 7
* Non-Negative Feedback
* Ultra Wideband Freq. Resp.
DVD-1x
Studio Reference
Universal DVD Transport
* DVD-Audio/Video
* Super Audio CD
* DVI-D and HDMI Ouputs
As you can see, the amount of available information is rather anemic at best, but these upcoming products are promising. Just to point out how far away these models are from production, several of these units are just shells with mockup displays.