Atlantic Technology System 2200 Speakers
Atlantic Technology System 2200 Speakers
Filed under: Loudspeakers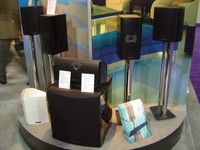 Atlantic Technology has a few new systems out to compete in the low to mid-priced surround sound arena. The new 2200 system will sell for $2000 ($2120 w/premium finish) and is composed of:
2200 LR Front Channel $460/pr (MSRP $495 w/premium finish)
The 2200 LR front speakers each feature a pair of woofers vertically flanking a single tweeter. This arrangement, commonly referred to as a D'Appolito Array, gives the speakers a linear horizontal dispersion for a broader "sweet spot," while also controlling excessive vertical dispersion (reduces instances of unwanted reflections from floors and ceilings).
2200 C Center Channel $375 (MSRP $400 w/premium finish)
The 2200 C center channel features a pair of woofers arranged horizontally with an elevated center tweeter. On the rear panel is a pair of acoustic controls to tailor the speaker output for the acoustic characteristics of the room and speaker placement: the tweeter's tilt or roll-off slope can be adjusted using a three-position High Frequency Energy switch, compensating for live or dead rooms. A Boundary Compensation switch allows adjustment of the lower-midrange output to help with non-optimal speaker placement (such as placing the unit into a home entertainment center). The tilting base design, a great feature which is showing up in more and more center channels, allows the speaker to be aimed directly at the listeners.
2200 SR Surround $460/pr (MSRP $495 w/premium finish)
For surround channel reproduction, the 2200 SR dipole/bipole surround speakers use two pairs of the same drivers for tonal consistency. They are arranged in a classic dipole configuration. In the dipole mode, the speakers fire out of phase to produce a more diffuse and enveloping soundfield. In the bipole mode, all speakers fire in phase producing a more direct soundfield (preferred for multichannel music. This type of configuration provides ultimate flexibility and represents an excellent flexible speaker design.
422 SB Boxed Sub $705 (MSRP $765 w/premium finish)
The 422 SB subwoofer features a long-throw 12-inch composite cone with a 2-inch, four layer vented aluminum voice coil. It is powered by a 225-watt internal amplifier produces a frequency response from 25 Hz to 150 Hz (+/- 3 dB). The subwoofer has line-level stereo inputs, as well as low level outputs, a continuously variable crossover adjustment (40 - 140 Hz), 18 dB/ Octave low-pass output, and a 180 degree phase switch. It incorporates Atlantic's exclusive Clear Filter Technology , which Atlantic Technology claims eliminates the deleterious effects that the subwoofer's enclosure itself can have on the sound.
According to Atlantic Technology, all of the System 2200 speakers are timbre matched as well as tonally matched to the Atlantic Technology System 1200 speakers, so it is possible to mix and match speakers from both systems. Each of the full-range speakers employs a 4.5-inch GLH (Graphite Loaded Homopolymer) woofer and a newly engineered 1-inch soft dome tweeter.
The Atlantic Technology System 2200 speakers are all currently available in maple and feature elegant curved metal grills. The speakers are also available in finishes of gloss black or silver at a marginal cost premium (see above pricing).