Yamaha PDM-5520 55" Plasma
Yamaha PDM-5520 55" Plasma
Filed under: Displays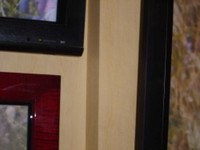 Yamaha had some really cool displays lined up at the show. I have to admit, I was actually more excited about thier aesthetics when I first saw them. Certainly the picture quality was excellent, but the plasma units were shown in oak, cherry, and with multiple bevel options (seen on the right here and below.) Plasma TVs are stylish in their own right, but adding some falir like this is an incredibly nice touch that will add a whole other layer of the "wow" factor to the plasma display experience.
Yamaha's newest plasma display, the PDM-5520 uses a highly advanced e-ALIS Method (extended ALIS) panel to deliver high image clarity by defining pixels digitally, allowing each picture element to be smaller than normal. This creates a higher pixel count for a much smoother, seamless picture with clearly defined edges and curves. The PDM-5520 maintains a crisp, defined, high-quality video performance during fast-paced action scenes or while showing fast-moving images for improved video performance. Further, the e-ALIS Method employs new plasma gas and luminescent materials that is supposed to be more effective then its predecessors. The units looked extremely crisp and were playing some very impressive HD materials for all to see.
The PDM-5520 has a measured brightness of 1,000 cd/m2 and 1,366 x 768 resolution, making it a clean, bright display that shoudl compete very well in the marketplace..
Another significant feature is Yamaha's Natural Black Drive System, which automatically determines the brightness of the screen and applies the gray scale (contrast) best suited to the scene in order to reproduce both bright and dark areas with small, clearly visible details. The contrast ratio is declared to be 1,000:1. Additional features include, Digital Linear Color Control, which maintains the proper balance between the three main colors for optimum color reproduction in every type of scene. The sharpness and tint of each color are independently controlled for a more precise adjustment.
Reception Quality Adaptive Noise Reduction and Luminance/Chrominance Transient Improvement technologies also help to ensure optimum picture quality. Day and Night Picture modes, four White Balance modes (Normal, Cool, Warm, Black-White), and a Film mode for watching movies allow users to compare and select the ideal image quality under any conditions. In addition, a long panel life and extremely low power consumption set the PDM-5520 up for an extended lifetime of 60,000 hours. This is about twice as long as a typical CRT monitor. The PDM-5520's audio features include a built-in 12W x 12W digital amplifier which supplies low distortion sound; SRS TruBass and Matrix surround sound modes; and four audio modes (Movie, Music, Speech, Favorite) for adjustable sound quality.
Other features include Side-by-Side Picture, Picture-in-Picture, multi-language on-screen display, timer, and five video and six PC size modes. A remote control is included.
Unfortunately, the PDM-5520 MSRP and release date have not yet been announced.