Yamaha DVX S-650 HT System
Yamaha DVX S-650 HT System
Filed under: Loudspeakers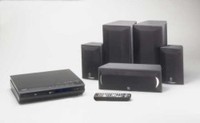 Yamaha took some time at CEDIA to announce the addition of a new CinemaStation DVD home theater system equipped with YPAO (Yamaha Parametric Room Acoustic Optimizer) technology.
YPAO is a great feature to have with lower priced home theater systems, simplifying the home theater set-up process by automatically analyzing room acoustics and setting some basic parameters. The microphone is included and the entire process takes less than three minutes. This is the first time Yamaha has released this technology apart from its receiver line.
The DVX-S650 is designed for the user who wants a sleek surround sound system that practically installs itself and is extremely easy to use. This slim unit is a Progressive Scan DVD player with an embedded high-performance 5.1 channel 55Wx5 amplifier with built-in Dolby Digital, Dolby ProLogic II and DTS decoders.
Also included is Yamaha's proprietary Quad-Field CINEMA DSP for enjoying the newest surround sound formats such as Dolby Digital EX and DTS-ES Matrix 6.1 channel (in Phantom mode.) The DVX-S650 comes with a small-footprint five satellite speaker package that has an elliptical design and includes two main front bookshelf speakers (two-way with 6.5" woofer and 3/4" tweeter), a center speaker (two-way with dual 3" woofer and 3/4" tweeter), two rear speakers (two-way with 3" and 1/2" balanced dome tweeter), plus a separate 130W powered subwoofer with an 8" driver. A preset remote control with four DSP program buttons, direct satellite/center/subwoofer volume control and centered DVD control buttons are also provided.
The DVX-S650 features one-touch Cinema DSP and, for listening to late-night multi-channel presentations in privacy, it utilizes unique Silent Cinema, which provides a 5.1 channel listening experience using a pair of ordinary two-channel headphones, plus Night Listening mode which allows the user to reduce the volume and still enjoy proper tonal balance and dynamic range.
The main component's built-in Progressive Scan DVD player delivers high-resolution video, and incorporates a high quality 10-bit video DAC and 192 kHz/24-bit audio DACs for all 6 channels (Main Left/Right, Center, Rear Left/Right, and Subwoofer) and can play DVD-Video, DVD-R/RW, DVD+R/RW, CD-DA, CD-R/RW, MP3, VCD, SVCD, and Picture CD, making the DVX CinemaStations a complete entertainment center.
Drawing upon Yamaha's extensive experience building world-class AV receivers, the 40-preset AM/FM tuner provides clear, stable reception of strong and weak stations alike. A nine-step sleep timer, a front panel headphone jack and a two-step bass boost selector are also included. In an effort to simplify installation, all of the receiver/DVD player's back-panel connections are color-coded to match the supplied hookup cables
The DVX-S650 has a wide range of inputs and outputs including: 1 optical digital, 2 analog and 2 composite video input connections along with 1 optical digital, 1 analog, 1 composite and 1 S-video output connections.
The DVX-S650, priced at $599, will be available in September 2004.
For more information, write Yamaha Electronics Corporation, P.O. Box 6660, Buena Park, CA 90622; telephone (714) 522-9105; email [email protected] ; or visit www.yamaha.com/yec .