Yamaha DVD-S2500 Info
Filed under: Transports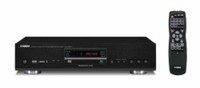 Yamaha Electronics Corporation previewed its next generation flagship universal DVD player with Faroudja DCDi processing at CEDIA. The DVD-S2500 will be replacing the DVD-S2300MKII and looks to be a winner already in terms of value and features.
The DVD-S2500 has all the same high-quality features as the DVD-S2300MKII with the addition of some significant upgrades. The DVD-S2500 includes an i.Link digital connection for DVD-Audio, Linear PCM, SA-CD and other high-quality digital audio transfer capabilities. It also supports Video Off Mode, which allows the user to turn off video circuitry while using these enhanced audio formats. Other new video enhancements include a new high-performance video DAC (216MHz/12-bit) and HDMI, which is capable of 480p, 576p, 720p, and 1080i digital video up-conversion

Another feature of the DVD-S2500 is NTSC/PAL progressive scan with DCDi processing by Faroudja, which provides 2:3 pull-down and proven-quality video scaling.
The DVD-S2500 single-disc DVD player handles all popular audio/video formats, including SA-CD, DVD-Video, DVD-Audio, CD, CD-R/RW, picture CDs, MP3 files and JPEG files.
It also takes full advantage of effects channels on DVD-Audio discs, and offers high-quality, SACD-capable DACs for all channels. Its SACD and DVD-Audio circuits are completely independent and optimized for each format, which provides discrete high-quality audio playback. In addition, the DVD-S2500 has independent digital and analog power circuits and transformers. Like the DVD-S2300MKII, the DVD-S2500 comes with an RS-232C port for advanced custom installation capability.The DVD-S2500 will have an MSRP of just $749 (a $250 price drop form the former flagship) and shoud be released around January 2005.
For more information, write Yamaha Electronics Corporation, P.O. Box 6660, Buena Park, CA 90622; telephone (714) 522-9105; email [email protected] ; or visit www.yamaha.com/yec .