Xhifi XDC-1 Desktop Speaker System
Xhifi XDC-1 Desktop Speaker System
Filed under: Loudspeakers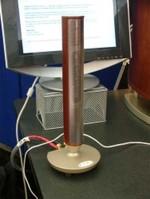 Here is a product that caught our eye at CEDIA. It would make a nice setup in a luxury office for a computer or mp3 player speaker system. The build quality looked superb and it was very pretty to look at. Satellite Specs:
Revolutionary Radial Ribbon design by JVC Labs

Elegant cylindrical shape with 360¡ driver design

3.74"H x .394"W Radial Ribbonª driver

Rare earth neodymium magnet with 1/14 the mass of typical designs

Ultra-high frequency response over 50 kHz for DVD-Audio/SACD

Driven by custom 50 watt (x2) Class "D" Digital Amplifier

Magnetically shielded

Type: Acoustic Susp.

Driver: Radial Ribbonª

Freq. Res: 230Hz ~ 50kHz

SPL: 80 dB/w_m

Impedance: 6 ohm

Dimensions (in): 5W/13H/5D

Weight: 2 lbs.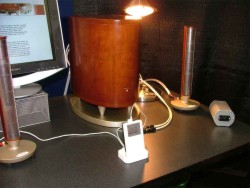 Subwoofer Specs:
6.6" resonance-free long-throw woofer
Custom coil and center cap design by JVC Labs
Bass reflex cabinet with special port configuration
Tiptoe footprint for maximum isolation
Dedicated sub volume, master volume, and phase controls
Driven by custom 60 watt Class "B" High Current Amplifier
Magnetically shielded
Type : Bass-reflex sub.
Driver: 6.6" cone (4 ohm)
Freq. Res: 30Hz ~ 230Hz
Sat Amp: 50W (x2) max
Sub Amp: 60W max
Dimensions (in): 10W/15H/13D
Weight: 22 lbs.
MSRP $995 Website:
www.xhifi.com