Velodyne Digital Drive Subs
Velodyne Digital Drive Subs
Filed under: Subwoofers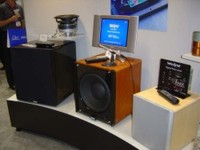 Velodyne showed off its Digital Drive Series subwoofers at CEDIA this year with a full showcase that included a visual demostration of its Digital Drive room management system. The series consists of 4 digital subwoofers the DD-10 (10" driver, 8 piston diameter - MSRP $2495), the DD-12 (12" driver, 9.7 piston diameter - MSRP $2995), the DD-15 (15" driver, 12.7 piston diameter - MSRP $3995), and the DD-18 (a massive 18" driver, 15.2 piston diameter - MSRP $4995). The Digital Drive room management technology takes subwoofer room equalization seriously by allowing the subwoofers frequency response in any room to be measured and digitally corrected in real-time using a supplied microphone. This information is then stored in the unit's memory. The system is very cool and is a solid step in the right direction with regard to dealing with room acoustics and bass anomolies with the goal of getting better low frequency performance in any home theater system.
Digital Drive Subwoofer Series Features
Microprocessor controlled with Texas Instruments computer chip
Digital Drive room equalization system
Digital High Gain Servo system
Four listening presets for action adventure, movies, rock pop, jazz classical
Transformer-less Class-D digital energy recovery amplifier
Dual tandem voice coil and Kevlar-reinforced cones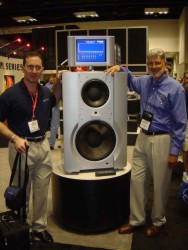 Also shown was Velodyne's flagship model Digital Drive 1812 Signature Edition Subwoofer which is by far the granddaddy of the entire line. The sub was set up to loop a low frequency sweep continuously, which it did quite effectively, even in a room that was over 3 million cubic feet in size! Standing just a few feet away I could hear and feel the harmonics from the 20Hz waves. Pictured at right are Gene DellaSala and Curt Chrisholm (of Velodyne Acoustics) standing next to the monolithic subwoofer.
The Digital Drive 1812 subwoofer also incorporates the latest generation of Velodyne's patented High Gain Servo technology that uses Velodyne's proprietary sealed accelerometer to measure cone movements 3500 times a second in order to correct for any distortion. The results is a subwoofer with over 6000 watts of Dynamic power that deliver clean, accurate, high-impact sound from 15 to 120 Hz with total harmonic distortion below 0.5%.
The targeted suggested retail price of the Digital Drive 1812 is $14,999.
For more information visit www.velodyne.com .