Velodyne Digital Drive Series
Velodyne Digital Drive Series
Filed under: Subwoofers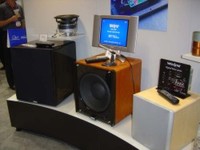 Velodyne's Digital Drive Series subwoofers fit in well with our recent focus on room acoustics and getting (and making) the most out of your listening environment. With an on-board 8 band digital graphic/parameteric EQ (huh?) the Digital Drive series also offers complete control over crossovers (both subsonic and low pass), slopes, phase, and polarity, which allows perfect matching of the subwoofer to almost any speakers in any environment. All of these subwoofers come complete with a calibrated microphone, cables and remote control.
One of the really great features of this system is that you can really see the effects of subwoofer placement on the listening position as you move your sub around the room.
High Gain Servo Control
The High Gain Servo Control means that a proprietary, sealed, digital accelerometer measures, compares and controls cone movements 16,000 times per second (for reference, the HGS series does 3,500 times per second.) This corrects for distortion and reduces levels to as low as 0.5%.
Other Misc Technology
There are a couple more cool tidbits on this product, including dual tandem voce coils, 3" in diameter and over 6" in length and have an excursion of over 1.25". The Kevlar-reinforced cones, custom-designed variable thickness EPDM surrounds and custom die-cast aluminum baskets make for a solid drive system.
The model line consists of 10", 12", 15" and 18" subwoofers, with each possessing a 1250 Watt RMS digital amplifier and all of the same basic technology including the Digital Drive room equalization software and accessories. The low frequency extension of the subs is as follows:
DD-10 18Hz - 120Hz
DD-12 17Hz - 120Hz
DD-15 15Hz - 120Hz
DD-18 14Hz - 120Hz
The DD-10/12 have a 310 ounch magnet structure and the DD-15/18 have a 380 ounch structure.