Sony VPL-HS51 LCD Projector
Sony VPL-HS51 LCD Projector
Filed under: Projectors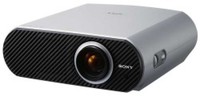 Sony Electronics showed off its next-generation 3LCD panel Cineza front projector. The new VPL-HS51 model is equipped with an advanced iris function, enabling the projector to dynamically adjust the video image according to the level of the input signal. This results in (claimed) contrast ratios of up to 6000:1, along with accurate reproduction of subtle details. The HS51 also incorporates three proprietary 720p LCD panels that provide 2,764,800 pixel resolution (1280x720) optimized for HD video input.
The new model is being targeted towards home applications due to its versatile cabinet, lightweight design and easy-to-use features. Picture position can be easily adjusted with the hardware lens shift function, which is incredibly versatile (100% of both horizontal and vertical distances according to an on-site Sony rep.) In fact, the rep claimed that the projector coudl be mounted slighted outside of the screen's horizontal boundary. At this price point, that's a very great feature to have.
An All Range Crisp Focus (ARC-F) lens and Real Color Processor (RCP) further enhances colors and images. The color of each hue can be adjusted independently for a customized picture. The Sony demonstrator did this on the demo unit and the moving video on the screen actually reflected the colors being affected in real time . You can switch through the colors and see which ones you want to affect while the feedback is shown on the screen. Aside from using it on color bars to help calibrate the display to ISF standards this is basically a "toy feature" but it was fun to watch nonetheless.
The 1.6x zoom lens allows for a short throw distance, with the option to project on screen sizes of 40 to 200 inches. An advanced 12-bit panel driver is included for high color graduation. It also has a new HD I/P converter that improves not only NTSC video conversion but high-definition signals as well. Additionally, the HS51 model's unique fan design generates a low level of noise for extremely quite operation.
Numerous inputs are also provided, including an HDMI interface. The VPL-HS51 is also supplied with Image Director 2 software, enabling advanced gamma adjustment via a PC connector. Image Director 2 works in conjunction with Sony's Real Color Processing (RCP) for precision picture adjustment. Finally, VPL-HS51 is equipped with an Ethernet connector for complete AV system integration via IP Control Protocol. Overall, this one highly flexible projector at a great price point.
The new VPL-HS51 will be available in October for about $3,500.