Sony 70" Grand Wega SXRD TV
Sony 70" Grand Wega SXRD TV
Filed under: Displays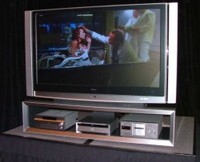 The new Sony 70-inch Grand WEGA micro-display rear projection television was absolutely a show-stopper with its full 1920x1080 HD resolution. On some content this thing looked almost like a sheet of glass over a window until you got within a couple feet of it.
Sony's Silicon X-tal Reflective Display (SXRD) technology was originally introduced in their QUALIA 004 front projector, albeit in a 4k engine version. The new rear projection model (KDS70XBR100) achieves higher panel pixel density than conventional micro-display devices. Its narrow inter-pixel spacing provides greater detail and more film-like picture quality with no visual artifacts.
The new model also employs vertically aligned liquid crystal for a high device contrast ratio (Sony claims it exceeds 3000:1) and optimal black level reproduction. Additionally, an ultra-thin cell gap with less than a five-millisecond response time (based on the sum of rise and fall time) enables clear images during action-packed sequences.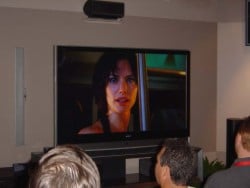 The KDS70XBR100 features other video signal process enhancements, including Sony's WEGA Engine and the latest DRC-MF video technology. Digital Reality Creation MultiFunction version 2 circuitry (DRC-MFv2) enables the digital mapping of not only conventional NTSC sources but also 1080i HD signals. DRC-MFv2 utilizes a proprietary algorithm to provide crisp, clear pictures along with an Image Format Processor (IFP) technology that optimizes contrast by providing the widest dynamic range possible.
For greater brightness and improved color reproduction, especially with reds, the new 70-inch SXRD Grand WEGA television incorporates a 200-watt high-output lamp, along with a new optical engine complete with high contrast Cinema Black Pro mode. A special lenticular glass screen with ARCoating also reduces screen distortion while expanding off-axis viewing.
In addition, the new model has a built-in, low noise S-Master digital amplifier that ensures crystal clear sound reproduction. It also has detachable speakers to provide custom installers with the option to add separate high-end speaker solutions.
The KDS70XBR100 sports an HDMI connector, and a Memory Stick media slot allows convenient JPEG, MPEG1 and MP3 file playback. The KDS70XBR100 also includes i.LINK (IEEE 1394) connectivity, which enables digital transfer of HD content to compatible home network devices.
The new KDS70XBR100 Grand Wega HDTV will be available early next year for under $10,000.