Snell Acoustics SPA-200 Subwoofer Amplifier
Snell Acoustics SPA-200 Subwoofer Amplifier
Filed under: Amplifiers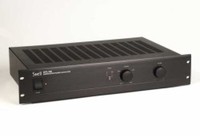 Snell Acoustics introduces an external subwoofer amplifier, the SPA200 , for use with their passive in-wall subwoofers.The SPA-200 is a 19-inch rack mountable amplifier to match up with Snell's passive in-wall subwoofers, the AMC Sub10 and the AMC Sub88 . The amp delivers 200 watts at 4 ohms of continuous power. It features a variable low pass filter (40Hz-160Hz /24dB octave), variable level control, plus a 0 /180 degree phase switch. It comes with switchable EQ specifically optimized to flatten and extend the response of Snell's in-wall subwoofers. The SPA200 also provides a 12-volt and music-sense turn on.
There is a stereo line level input, in addition to an LFE line level with crossover bypass. The LFE input should be used with surround processors that provide their own internal and adjustable bass crossover. All inputs are gold-plated RCA connectors.
The SPA200 is set at a suggested price of $600 and will be available in 4th Quarter 2004.