Snell Acoustics AMC 725 In-Wall Speaker
Snell Acoustics AMC 725 In-Wall Speaker
Filed under: Loudspeakers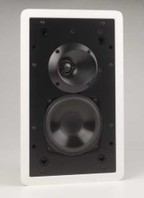 Snell Acoustics introduces a new in-wall speaker, the AMC 725 is based on the K7 mini-monitor that was recently introduced in their new Series 7.
The AMC 725 is tuned to conform to the sonic characteristics of the Series 7 models, so it is possible to mix any speaker in the series, be it in-wall, on-wall or floor standing and be assured perfect timbral matching. For enhanced performance a new crossover was designed to tune this new in-wall model to the in-wall boundary, and uniquely extend bass in a small volume cabinet.
The AMC 725 is equipped with a 1-inch cloth dome tweeter with ferrofluid cooling and Snells exclusive Directed Power waveguide. The AMC725 houses a single 5.25-inch copolymer mid/bass driver with butyl rubber surround.
To achieve the performance capabilities of a freestanding monitor, the flushmount designs used on the AMC725 overcome three major factors that in the past limited in-wall speaker performance. First, to insure predictable response, regardless of placement or wall type, the speaker is placed inside a sealed, aluminum enclosure, which defines bass response, just like a conventional loudspeakers enclosure, and reduces sound transfer to other rooms.
Second, specific materials are used to control resonance. The drivers are mounted to a specially damped MDF baffle, constructed in three layers to enhance bass/midrange clarity and deaden wall resonance. The baffle is then secured to the well-damped, heavy gauge aluminum enclosure.
Third, since flush mount speakers can not toe-in to reproduce a proper soundstage, the Directed Power tweeter steers upper frequencies toward the listening area, in 45-degree increments, assuring spatial realism and proper stereo imaging commonly associated with high-performance monitors.
The AMC 725 is very easy to mount in any conventional stud wall with the swivel action dog leg clamps. The speaker is equipped with high-quality dual, 5-way gold-plated, solid metal binding posts that can accommodate pins, banana plugs, spade lugs and bare wire up to 12-gauge. Additionally, they are magnetically shielded for use in proximity to video monitors.
The AMC 725 is finished in a paintable, matte white, and has a perforated metal grille. Cloth grilles and custom paint are optional. Like all Snell speakers, the AMC 725 speakers are tuned to .5dB of the reference master and can be special ordered in most woods and finishes.
The new custom solutions AMC 725 is priced at $750 each and will be available in 4th Quarter 2004.