Russound CAM6.6 Six Zone Radio Receivers
Russound CAM6.6 Six Zone Radio Receivers
Filed under: Transports

Russound, a leading manufacturer of multi-room a/v products for the residential systems market, launched their CAM6.6, a Multi-Source/Multi-Zone AM/FM or XM Satellite Radio Receiver that can distribute six audio sources into six zones and is also expandable.

The CAM6.6 will initially be delivered in two versions. Shipping first this October will be the CAM6.6T with built-in AM/FM tuner for $2,099 MAP, followed by the CAM6.6X ($2399 MAP) the worlds first MS/MZ receiver to offer built-in XM Satellite Radio. Both versions will also be offered in optional packages with UNO keypads providing additional value, ease of ordering and inventory management.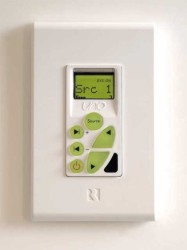 The CAM6.6T will be offered in a package with (6) UNO-S1 keypads while CAM6.6X will be combined with (5) UNO-S1 keypads and (1) UNO-S2 keypad. Complementing the CAM6.6T is Russounds debut of the new UNO-S1 smart keypad with an MAP of $229. The UNO-S1 features a custom five character LCD display that provides the user with important feedback such as source name, radio frequency and preset name. When combined with Russound smart sources such as the CAM6.6 built-in tuner, ST2-XM Dual Tuner or SMS3 Media Server, the user can view useful information such as station id, artist, track and song title right from the UNO keypad display. The compact single gang keypad is housed in a stylish Decora design that is available in five popular colors to blend in with virtually any decor. The CAM6.6 also features a built-in IR control code library as well as IR learning capability so the system is compatible with virtually all brands of a/v equipment.
For compatibility with other Russound smart components, the CAM6.6 receiver also has RNET on board. RNET is Russounds proprietary communications platform that allows Russound multi-room systems to communicate with one another for a wide array of benefits. For the end-user, RNET communication provides useful information and feedback for ease of operation and enjoyment. For the installer, RNET provides plug and play convenience, proper system configuration and ensures trouble-free installation.
Key product features:
Trouble-free installation- Plug and Play compatibility. No PC required
Simple to use- attractive UNO smart keypads with LCD display
Expandable- easy to add more zones via Link In/Out feature
Compatible- built-in IR code library controls virtually any a/v component
The CAM6.6 and UNO-S1 are available to order now and will be shipping in October 2004. Along with Russounds complete line of award winning multi-room a/v products.
About Russound: Russound is a leading, award-winning designer, manufacturer and supplier of state of the art audio, video and connectivity products for the residential systems markets. Founded in 1967, the company is based in Newmarket, New Hampshire and markets their products throughout the world. Russound believes in excellence in products, service and most of all their people. Additional information on Russound and its products can be readily obtained at www.russound.com .