RBH Sound CinemaSITE System
RBH Sound CinemaSITE System
Filed under: Loudspeakers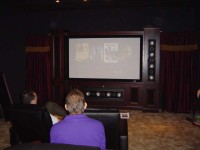 Home Cinema in a Day? RBH Sound developed something that simply blew us away. A full in-wall system complete with a beautiful cherry cabinet system and grills. The result? A complete room transformation in less than 5 hours (that's how long it took RBH to build the room using the supplied materials - and they showed us a time lapse video to prove it!) CinemaSITE takes in-wall speakers to a whole new level and creates a sophisticated and stylized look for any home theater room.
And the sound? Incredible. The system we demoed was the equivalent of the T-system but in an in-wall configuration, comprised of three SI-6100s (left, right and center), two SI-760s for surrounds, and two 1010-SE subwoofers. The CinemaSITE simply blew us away in terms of its quality, dynamics and imaging. And on top of that, it truly gives you the look of a custom home theater without all of the hassle and it is designed to be retro-fitted into an existing room. Normally, a home theater system that looks like this would have to be built in from the ground up, pre-construction. The CinemaSITE, however has several features and uses several technologies that allow for installation into finished rooms (special cabling methods and tools allowing for flexible cable management under crown moulding, etc.).
We asked RBH how they came up with the idea for the CinemaSITE. Apparently, while constructing a facade for a demo of their new in-wall systems, their design team surmised that the project they were working on would do well as an actual product line - wood facia and all. It didn't take much to realize that this was an evolutionary step in the world of in-wall systems and the CinemaSITE was born.
The CinemaSITE will have an estimated MSRP between $18,000 and $25,000 complete depending upon the selected configuration. The CinemaSITE can support just about all of RBH's rectangular in-wall speakers and can thus be configured in many different ways depending on your needs.