Premiere HTS Tower Recliner
Premiere HTS Tower Recliner
Filed under: Furniture and Storage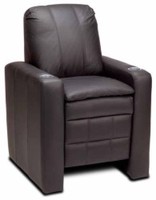 Premiere Home Theatre Surroundings introduced The Tower, a new luxury recliner with an elevated seat height design that offers a unique solution for many difficult seating applications.
With its 53-inch seat height, The Tower is ideal for a home theater's rear row seating. It positions the user substantially higher off the floor than traditional home theater seating, eliminating the need for the risers and platforms that until now have been necessary to obtain an unobstructed view of the projection screen from the rear row.
The Towers space saving, wall hugger incliner design provides even greater flexibility; it can be positioned close to the back wall, saving significant amounts of space in smaller rooms. The Tower boasts the same advancements in style, comfort and craftsmanship that all Premiere HTS luxury recliners have long been known for, including the companys low memory-compression, resilient pillow-top seat cushioning.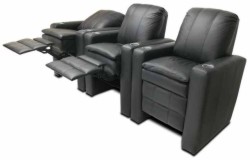 Additional creature comforts include Premiere HTS whisper-quiet, motorized recline mechanism that allows for continuously variable recline capability; a light touch, variable lever release for units ordered with the non-motorized recline and large capacity, stainless steel cup holders for beverages. While it shares the same contemporary styling as Premiere HTS popular Savoy model, The Tower can be mixed and matched with many of Premiere HTS MovieLounger models.
The Tower, like all Premiere HTS models, can be designed in either hand-selected European leathers or Premiere HTS luxurious CineSuede micro fiber fabrics that can be customized in a two-tone design along with a choice of 3 cup holder finishes to best complement your decor. The Tower is shipping now at a starting suggested retail price of $ 2,595. For more information visit Premiere HTS at www.PremiereHTS.com .