Philips Streamium SL300i SL400i Links
Philips Streamium SL300i SL400i Links
Filed under: Transports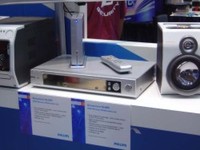 The Philips Streamium SL300i and SL400i Multimedia Links provide consumers with a simple solution to wirelessly enrich their present home entertainment system with multimedia (music, pictures and videos) content from a PC or directly from the Internet with a broadband connection.
With a standard connection to an existing display device, users can access a world of Internet and PC multimedia content. The SL400i comes as a bundle together with a Wi-Fi USB adapter to provide an out-of-the-box PC-link plug and play experience. With the SL300i and SL400i, consumers can connect with PC and online multimedia content instantly. Some quick details & features:
Allows for wireless streaming of entertainment such as from the PC or Internet to an existing TV and audio system
SL300i - Small size for the ultimate convenience in placement and attaching existing audio/video components.
SL400i - Rack-style component for integration into an existing home theater/surround sound system and operates via local display without turning on the TV.
Wirelessly allows consumers to access content from the device through Wi-Fi 802.11g and UPnP technology.
Crisp, clear video images
SL400i - Progressive scan output gives consumers the best possible image.
The Streamium Multimedia links are part of Philips' "Connected Planet" vision, where consumers are able to access and enjoy content anywhere, anytime, any place, instantly, intuitively and spontaneously, with the use of broadband-enabled wireless connectivity. Both the SL300i and SL400i are available for immediate delivey. Manufacturer's suggested retail price for the SL300i is $299 and the SL400i is $449.