Parasound Ztuner FM/AM Tuner
Parasound Ztuner FM/AM Tuner
Filed under: Transports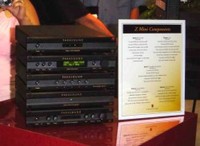 Parasound has introduced the Ztuner, a high-quality FM/AM tuner with a wide array of features that make it ideal for custom installation and multizone applications. Part of the problem-solving Parasound Z series of matched mini-components, the Ztuner features a chassis that is just 1 rack space tall and 9-1/2 inches wide - half the width of a conventional audio component.
For use in whole house audio and control systems, the Ztuner features advanced capabilities such as bidirectional RS-232 control, external remote input and looped output jacks, and looping 12 Volt trigger input. Direct frequency tuning is available via remote control and through the rear-panel RS-232 port. The remote control is assignable for up to four distinct zones, allowing for multiple Ztuners to operate independently of one another in the same system.
The Parasound Ztuner is suitable for use in the most demanding audiophile applications, with high sensitivity FM and AM tuning circuitry. It boasts outstanding specifications, with 80 dB channel selectivity, 50 dB separation, a signal-to-noise ratio over 74 dB, and IHF sensitivities of 11dBf for mono and 37.2 dBf for stereo. It features automatic, manual, and preset tuning, and is capable of forced mono FM reception for weak signals.

The Ztuner can be used in conjunction with an optional Zblank adaptor for mounting alone in a 19-inch rack, or with an SBS side-by-side adaptor for mounting multiple Ztuners or other Parasound Z components, two abreast. The Ztuner also includes no-mar isolation feet for standalone use, and a high quality removable AC power cord.

Quick Features/Specs:
Automatic, manual and preset tuning
Two-way RS-232 control
Direct frequency access via remote and RS-232
Fully remote-controlled with discrete on/off
Remote handset assignable up to four different zones
Forced mono operation for mono zones
Rear panel IR remote input
The Parasound Ztuner is currently available at a suggested retail price of $300.
All of the Parasound Z components are designed to meet the needs of consumers and custom installers for multi-room/multi-zone installations, PC and desktop audio, and bedroom or den stereo systems. The Zselect loudspeaker selector, Ztuner FM/AM tuner, and Zamp v.3 stereo amplifier are all currently available. Additional products, including the audiophile-grade Zpre stereo preamplifier, are also forthcoming.
Parasound's products are available from quality audio/video retailers, and select custom installation specialists.