Parasound Zphono Phono Preamp
Parasound Zphono Phono Preamp
Filed under: Receivers and Processors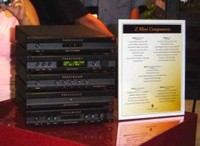 Parasound has introduced the Zphono, a miniature, high-quality phono stage preamplifier for use with the majority today's audio and home theater equipment that does not include phono inputs compatible with LP turntables. The Parasound Zphono cleanly boosts the output from either moving coil or moving magnet phonograph cartridges in order to drive the line level inputs of modern preamplifiers and receivers. The Zphono is half the width of a traditional audio component, and is designed for professional rack-mounting or standalone applications.
The Zphono employs advanced circuitry and high quality components to provide the extra gain stage and RIAA equalization circuitry that are required for highly accurate and low-noise reproduction of the low level output of a phonograph cartridge. A rear panel switch is used to select between moving magnet or moving coil cartridges. The Zphono also features an exclusive AC line polarity switch to ensure hum-free performance in all installations.

Part of the problem-solving Parasound Z series of accessory components, the Zphono features a chassis that is just 1 rack space tall and 9-1/2 inches wide, half the width of a conventional audio component. An optional Zblank adaptor can be used to mount Zphono alone a 19-inch rack, while an SBS side-by-side adaptor allows it to be mounted two abreast with another Parasound Z component. The Zphono includes no-mar isolation feet for standalone use, and a high quality removable AC power cord.
The Parasound Zphono is currently available at a suggested retail price of $150.

All of the Parasound Z components are designed to meet the needs of consumers and custom installers for multi-room/multi-zone installations, PC and desktop audio, and bedroom or den stereo systems. The Zselect loudspeaker selector, Ztuner FM/AM tuner, and Zamp v.3 stereo amplifier are all currently available. Additional products, including the audiophile-grade Zpre stereo preamplifier, are also forthcoming.
Zphono Specifications :
Input Sensitivity: 0.15 mV - 2 v 
Input Impedance: 47 k ohms 
I nput Overload, MM: 220 mV, 1 kHz 
RIAA Accuracy: 0.25 dB, 20 Hz - 20 kHz 
SIgnal to Noise Ratio: 75 dB, ref. 5 mV input 
Power Requirement: 120 V/60 Hz, 5W 
Dimensions: 9 1/2" (241mm) W x 1 3/4" (44mm), 2" (51mm) with feet H x 9 1/4" (235mm)D 
Net Weight: 3 lb. 
Rack Mount Accessories (not included): 
SBS: Bracket and bolts to attach two Z-Component models side-by-side.
Zblank: Blank panel for mounting any Z-Component model into a rack by itself. 
Zblank includes one SBS.