NEC HT410 and HT510 DLP Projectors
NEC HT410 and HT510 DLP Projectors
Filed under: Projectors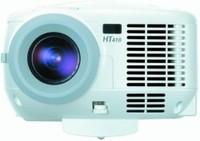 NEC Solutions, Inc. introduced two new Showcase Series home entertainment projectors. Targeted for consumers who want to have an affordable movie theater experience in their home, the HT410 and HT510 single-chip DLP projectors feature 16:9 native HD resolution and an intuitive user interface with a contemporary design for low-cost, big screen entertainment. Under the Showcase Series umbrella, the HT410 and HT510 join four new residential plasma displays and the HT1100 projector.
The HT410 (WVGA/854x480) and HT510 (1024x576) feature widescreen resolutions compatible with HDTV and DVD movie playback in high resolution. Built-in deinterlace video processing aids with elminating artifacts from fast motion picture display. VORTEX Technology Plus helps improve white balance, color accuracy and dynamic range for a crisp and vivid image. The new HT projectors provide 1000 ANSI lumens and a stated 1200:1 contrast ratio for commanding video display in virtually any viewing environment.
The new HT projectors offer portable entertainment that adapts to just about any room with a sub-seven pound contemporary design and new pearlescent white chassis. Built-in wall color correction preset selections provide adaptive color tone correction when projecting onto non-white screen material or other display areas, such as a garage door for neighborhood movie night or a wall in a basement. The new HT projectors function well in home settings with manual vertical lens shift and a rear adjustable tilt foot mechanism to further adjust projector placement and alignment to the screen, along with Autosense one-touch image optimization. Additionally, a full- function back-lit remote allows for easy navigation at the touch of a button.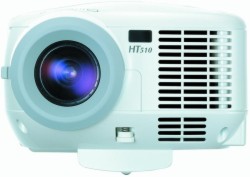 Both projectors incorporate Eco-Mode technology to extend lamp life up to 50 percent.
Pricing and Availability The HT410 and HT510 are available for an estimated street price of $1,495 and $1,995 respectively. The HT410 will begin shipping in October 2004 and the HT510 in November 2004. Both come standard with a two-year limited parts and labor warranty. For further information on NEC's Showcase Series line of projectors and plasma displays, please visit http://www.necvisualsystems.com or call 1-800- NEC-INFO.