Marantz SR-8500 Receiver
Filed under: Receivers and Processors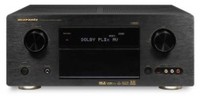 Marantz America is introducing four 7.1-channel models at CEDIA 2004 including the SR8500 (SRP $1,599), SR7500 (SRP $1,099), SR5500 (SRP $649.99) and the high-value SR4500 (SRP $449.99).
Featuring an elegant new chassis design, all Marantz's new receivers include 7 channels of discrete amplification, component video switching, component or S-video upconversion, 32-bit DSP processing and 192kHz/24-bit digital/audio converters for all channels. In addition, all models feature Dolby Pro Logic IIx capability, surround-sound headphone processing, front panel menu control and home theater processing (THX or HTEQ).
Marantz has a newly-developed all Discrete Current Feedback (SA-ready) amplifier design that enables the receivers to deliver a bare minimum of 70 percent of all two-channel power rating when driving five channels simultaneously - a fairly robust "real world" specification, though Audioholics will be addressing amplifier power ratings on our own, shortly.
Marantz's new SR8500 A/V receiver features THX-Select Post Processing and Dolby Headphone support. It also includes gold-plated connectors and an all-copper chassis with a double-layer bottom plate. The receiver is distinguished by a sleek new front-panel design with a fold-down door and cursor-controlled menu system for ease of operation. The SR8500's massive Toroidal Transformer provides 110 watts of power output and 32-bit DSP processors and 24-bit/192kHz D/A converters for all eight channels round out the feature set.
The SR8500's advanced MRAC (Marantz Room Acoustic Calibration) feature utilizes Marantz's proprietary automatic equalization algorithm to analyze and calibrate optimum surround sound architecture for any size or shape room, including parameters for speaker level, phase, size and frequency response. A high-quality microphone is included with the receiver.
The receiver's newly designed video section features DVI switching with two DVI inputs and one output, eliminating the need to change connections when switching between video sources. Four HD component video inputs with video up/down conversion are also included. Tme base correction (TBC) in the circuit design offers total compatibility with all types of fixed-pixel display devices such as plasma monitors and DLP projectors.
The Marantz SR8500 is designed for total ease of set-up, featuring 8 pre-outputs, a 7.1 Channel Direct Input, seven digital inputs (6 assignable)-all color-coded (even the speaker terminals). Multi-room operation is facilitated with the use of A/B speakers with multi-room and multi-speaker "C."
The SR8500 is compatible with every popular 7.1-, 6.1- and 5.1-channel surround sound formats including Dolby Digital EX, Dolby Pro Logic IIx, DTS ES, DTS 24/96 and Circle Surround 6.1 (CS2). Two DC Triggers and 2 Direct IR Flasher Inputs are included for a variety of custom applications. The receiver is bundled with Marantz's RC1400 slim programmable learning remote control. In addition, the SR8500 includes an RS-232C connection for integrated system control and future software upgrades.
The SR8500 is scheduled for delivery in late 4th quarter of 2004 at a suggested retail price of $1,599.
Additional information is available at www.marantz.com .