Marantz SR-5500 Receiver
Filed under: Receivers and Processors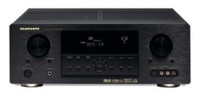 Marantz America is introducing four 7.1-channel models at CEDIA 2004 including the SR8500 (SRP $1,599), SR7500 (SRP $1,099), SR5500 (SRP $649.99) and the high-value SR4500 (SRP $449.99).
Featuring an elegant new chassis design, all Marantz's new receivers include 7 channels of discrete amplification, component video switching, component or S-video upconversion, 32-bit DSP processing and 192kHz/24-bit digital/audio converters for all channels. In addition, all models feature Dolby Pro Logic IIx capability, surround-sound headphone processing, front panel menu control and home theater processing (THX or HTEQ).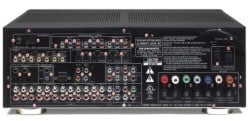 Marantz has a newly-developed all Discrete Current Feedback (SA-ready) amplifier design that enables the receivers to deliver a bare minimum of 70 percent of all two-channel power rating when driving five channels simultaneously - a fairly robust "real world" specification, though Audioholics will be addressing amplifier power ratings on our own, shortly.
The Marantz SR5500 receiver includes Dolby Headphone and Marantz's brand new proprietary HT-EQ (Home Theater Equalizer) circuitry, which compensates for the overly bright sound quality of some DVD movie soundtracks that were not properly re-equalized for the home listening environment (similar to THX Select post-processing). Like all Marantz receivers, the SR5500 includes 32-bit DSP processors and 24-bit/192kHz D/A converters on all channels, a massive power transformer, all-discrete current-feedback amplifier topology, and many additional refinements. It delivers 90 watts of pure power into each of its seven main channels.
The Marantz SR5500 A/V receivers will be available in October 2004 at a suggested retail price of $649.99.
Additional information is available at www.marantz.com .