Marantz SR-4500 Receiver
Filed under: Receivers and Processors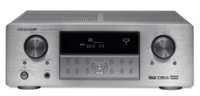 Marantz America is introducing four 7.1-channel AV receiver models. Marantz's A/V receiver line now includes the SR8500 (SRP $1,599), SR7500 (SRP $1,099), SR5500 (SRP $649.99) and the high-value SR4500 (SRP $449.99).
Featuring an elegant new chassis design, all Marantz's new receivers include 7 channels of discrete amplification, component video switching, component or S-video upconversion, 32-bit DSP processing and 192kHz/24-bit digital/audio converters for all channels. In addition, all models feature Dolby Pro Logic IIx capability, surround-sound headphone processing, front panel menu control and home theater processing (THX or HTEQ).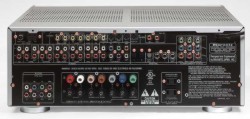 Marantz has a newly-developed all Discrete Current Feedback (SA-ready) amplifier design that enables the receivers to deliver a bare minimum of 70 percent of all two-channel power rating when driving five channels simultaneously - a fairly robust "real world" specification, though Audioholics will be addressing amplifier power ratings on our own, shortly.
The new Marantz 7.1-channel SR4500 A/V receiver features Marantz' HT-EQ Home Theater Equalizer circuit for room-filling home theater audio. The SR4500, available in either a black or brushed silver cosmetic, also features a new all aluminum front panel desig n, simple set-up menu and a new cursor controlled menu. The SR4500 provides a multitude of s urround sound decoding formats include SRS True Headphone Surround, Dolby Digital EX, Dolby Pro Logic IIx, DTS-ES Matrix, DTS-ES Discrete, DTS 96/24, Circle Surround 6.1 (CSII) processing and other DSP modes.
The SR4500 features component, S-Video, and composite video switching, along with performance and convenience features such as a new, simple, front-panel set up menu, a 7-channel direct input, a 30-station-preset FM/AM tuner and full remote control operation. The SR4500 will be available this month at a suggested retail price of $449.99.
Additional information is available at www.marantz.com .