Marantz SA-11S1 SACD Player
Marantz SA-11S1 SACD Player
Filed under: Transports

Marantz added two premium-quality separates to its "Gold Standard" component lineup. The new arrivals include the PM-11S1, a no-compromise integrated amplifier, and the high-
performance
SA-11S1 SACD player.
Like all components in the Marantz "Gold Standard" line, both new products feature elegant gold-plated styling and a two-tone metallic gold finish that pays tribute to the historic legacy of Marantz components.
Kevin Zarow, Director of Marketing and Product Development, Marantz America, Inc ., noted: " Marantz recently celebrated 50 years of leadership in high-quality home entertainment, and we're using all of our resources to make the next 50 years even more exciting. Nowhere is Marantz's legendary expertise better demonstrated than in our newest additions to our 'Gold Standard' line. Both the PM-11S1 and the SA-11S1 provide audio's 'true believers' with today's most advanced technologies, resulting in an unsurpassed listening experience. "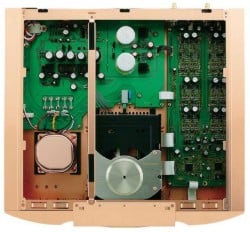 The SA-11S1 SACD player utilizes a brand new reference chassis design, as well as refinements such as high-speed DSD (Direct Stream Digital) DACs, a specially designed digital filter and new HDAM SA Buffer Amps. An well designed s horter signal path circuit board construction adds to the SA-11S1's music repr oduction capabilities, decoding SACD's Direct Stream Digital (DSD) bit stream (1-bit sampled at 2.8224 MHz) with frequency response to 100 kHz and a dynamic range of 113 dB (at lower frequencies).
The SA-11S1's solid full-copper chassis construction and newly designed mechanism, combined with additional copper shielding and a double-layer bottom plate, virtually eliminates vibration. The player's audiophile-grade massive toroidal transformer delivers all the power necessary to bring out the best in digital music sources. Like the PM-11S1, the SA-11S1's front-panel FL display features Marantz's blue backlighting and utilizes a separate power supply to prevent noise interfering with the audio signal path
T he SA-11S1 will be available in October at a soon to be announced price.
Additional information is available at www.marantz.com .