Marantz PM-11S1 Integrated Amp
Marantz PM-11S1 Integrated Amp
Filed under: Amplifiers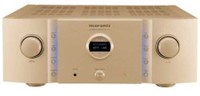 Marantz added two premium-quality separates to its "Gold Standard" component lineup. The new arrivals include the PM-11S1, a no-compromise integrated amplifier, and the high-performance SA-11S1
SACD player.
Like all components in the Marantz "Gold Standard" line, both new products feature elegant gold-plated styling and a two-tone metallic gold finish that pays tribute to the historic legacy of Marantz components.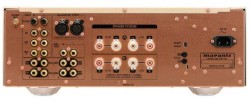 Kevin Zarow, Director of Marketing and Product Development, Marantz America, Inc ., noted:
"Marantz recently celebrated 50 years of
leadership in high-quality home entertainment, and we're using all of our resources to make the next 50 years even more exciting.
Nowhere
is Marantz's legendary expertise better demonstrated than in our newest additions to our 'Gold Standard' line. Both the PM-11S1 and the SA-11S1 provide audio's 'true believers' with today's most advanced technologies, resulting in an unsurpassed listening experience."
For accurate tonal and image balance with virtually no distortion, the PM-11S1 features symmetrical circuitry, independent oversized heat sinks and hand-selected customized components. Ultrawide bandwidth circuitry provides a frequency response from 3 Hz - 150 kHz, with a remarkable greater-than-100dB channel separation. The PM-11S1 also features a high-quality MM/CC phono pre-amp.
For greater flexibility, the PM-11S1 provides users with multiple listening modes, including stereo, bi-amp, and multi-channel operation. And t o ensure optimum signal purity with no noise interference, the amplifier's newly designed display, featuring unique Marantz "Blue" backlighting, operates on its own independent power supply.
The Marantz PM-11S1 Class A Stereo Amplifier will be available in January at a soon to be announced price.
Additional information is available at www.marantz.com .