Marantz EDTV/HDTV Plasma Displays
Marantz EDTV/HDTV Plasma Displays
Filed under: Displays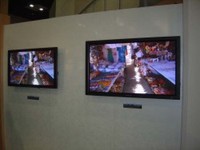 Marantz America introduced three new plasma display monitors at CEDIA. The three new monitors, scheduled for delivery in fall 2004, include two HD models: the 50-inch PD5050D (SRP: $10,999) and the 42-inch PD4250D (SRP: $8,999), as well as the high-value enhanced definition 42-inch PD4230D (SRP: $5,999). All three models feature an elegant black bezel design, a new user-friendly on-screen display, remote controls with discrete input selection and High Definition Multimedia Interface (HDMI) connectivity. I took a close look at the EDTV resolution PD4230D and was truly impressed with its picture quality. For a non-HD display, that monitor was clear and crisp.
Noted Kevin Zarow, Director of Marketing and Product Development for Marantz America: "The evolution of the plasma display monitor over the last several years has been one of the most exciting developments in the custom home theater; and Marantz is committed to staying ahead of the curve in this important and growing segment. To this end, our new line of plasma sets, featuring elegantly designed black bezels, HDMI connectors plus a host of performance and convenience features, clearly establishes Marantz as a category leader."
The three new models are all HDTV and DTV-compatible. Both the PD5050D and the PD4250D are true high-definition monitors-capable of displaying 480p or 720p progressive scan images from DVD-Video players, HDTV set-top boxes or computers; as well as 1080i images from an HDTV set-top box or other sources and upconverted images from any NTSC source. All three models will also display images from a computer up to UXGA resolution.
HDMI (High Definition Multimedia Interface) inputs on all three models ensure that the video signal from a high-definition source such as an HDTV converter or DVD player is fed uncompressed and in its purest digital form to the plasma display through a single cable. Along with the HDMI connection, all three models feature seven video inputs, including digital RGB, component RGB (5x), component RCA, VGA, S-Video, composite video inputs, and multiple audio inputs. All sets are compatible with NTSC, PAL and SECAM formats. In addition, RS-232C connections in all displays facilitate integrated system control.
One of the hallmarks of the new Marantz monitors is exceptionally high brightness combined with outstanding color accuracy and contrast - this was eaily observed in person with teh diplayed units. All sets feature a built-in deinterlacer and scaler, allowing the set to operate in either native progressive scan mode or to upconvert video sources. All displays provide a choice of aspect ratio modes for viewing standard 4:3 format and 16:9 widescreen program material with the highest-possible image quality.
All new Marantz plasma displays offer advanced multi-screen operation functions, enabling viewers to watch the image from a video source and the output from a computer at the same time. Key functionality as well as video and audio adjustments are easily accessible via the newly designed on-screen menu and improved, easier-to-use remote control featuring discrete input selection.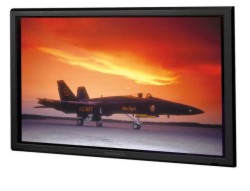 The 50" Marantz PD5050D incorporates a 1366 x 768 high-definition plasma display panel. An automatic/manual color temperature function enables the user to adjust the monitor to a pre-set selection of color temperatures, including the NTSC standard 6500 degrees, or choose a customized setting. The PD5050D will be available in October 2004 for a suggested retail price of $10,999.


The Marantz PD4250D includes virtually the same advanced feature set as the PD5050D. The PD4250D features a 1024 x 768 high-definition plasma display panel, along with advanced video processing and "intelligent" scan conversion technologies. This 42-inch monitor is the ideal size for medium and smaller-sized home theater rooms. The PD4250D will be available in October 2004 for a suggested retail price of $8,999.
The new Marantz PD4230V incorporates many of the image-enhancing features and refinements of the company's higher-end products at a more affordable price. The set's 853 x 480 pixel panel, sophisticated 3D Motion Adaptive Scan Conversion, and 3:2 pulldown detection yields highly accurate image quality from NTSC program sources and film-based DVD-Video discs. The PD4230V will be available in October 2004 at a suggested retail price of $5,999.