Marantz DV9500 Universal DVD
Marantz DV9500 Universal DVD
Filed under: Transports

Marantz America introduced its Model DV9500, the company's new flagship DVD player. The DV9500, which features the world's first-ever use of Dolby Headphone in a DVD-Audio player, includes an HDMI interface to scaling to 720p and 1080i. Brand new HDAM-2 SA output stages, 216 MHz/14-bit video decoding and advanced audio circuitry contribute to the features of this unit. The DV9500 carries a suggested retail price of $2,099 and will be available in December of 2004.

To provide custom installers with the ideal solution for every possible home entertainment system configuration, the DV9500 features an array of advanced connectivity options. In addition to seven video outputs, including S-Video and composite video (Y/C and Y/Pb/Pr all available simultaneously), the DV9500 includes digital, two-channel and multichannel analog audio outputs, as well as an HDMI interface . The DV9500 also features an RS-232 connection to enable two-way integrated system control.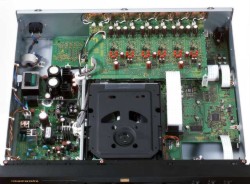 Regarding the integration of Dolby Headphone, Craig Eggers, Director of Marketing, Consumer Electronics for Dolby Laboratories, noted: "As the first universal DVD player to incorporate Dolby Headphone technology directly into the player for DVD-Audio playback, the Marantz DV9500 advances the surround sound music genre, enabling even those who don't have a full 5.1 set-up to enjoy the superlative fidelity of their favorite DVD-Audio albums in surround sound."
Designed as the ultimate high-quality home entertainment source component, the DV9500 features a host of industry-leading video enhancement technologies. High-performance video scaling circuitry allows it to output video signals in 720p or 1080i HD formats. Progressive scan component video output with true 3:2 and 2:2 pulldown detection ensures the best-possible reproduction of film-based DVD-Video discs. In addition to its 14-bit/216MHz video D/A converters, the DV9500 provides true 12-bit video processing.

The DV9500 features separate power supplies for the internal audio circuitry and a redesigned audio section that includes an all-copper, double-layered and zero impedance ground plate ch assis. High-performance audio technologies include leading-edge 192kHz/24-bit audio D/A converters as well as discrete multi-channel audio circuitry which utilizes Marantz's new proprietary HDAM-2 SA (High-Definition Amplifier Module 2 Super Audio.)
Full bass management is also provided (including delay) for DVD-Video, DVD-Audio and SACD discs as well as built-in Dolby Digital and DTS surround sound decoding. The Marantz DV9500, which will be available in December 2004 at a suggested retail price of $2,099, joins the company's DV7500, DV6500 and high-value DV4500 in the company's new DVD lineup.
Additional information is available at www.marantz.com .