LG MW-71PY10 71" Plasma TV
LG MW-71PY10 71" Plasma TV
Filed under: Displays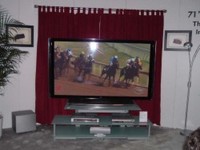 LG showed off its enormous 71" plasma television. If you're looking for a high-quality LARGE plasma television, this is an incredible unit. The imposing new 71-inch widescreen plasma high-definition monitor will be available in limited quantities in the United States in the fourth quarter.
LG's MW-71PY10 boasts 1920 x 1080p resolution and is driven by LG's exclusive XD Engine, this 71-inch PDP displayed crisp HDTV images. Their XD Engine technology takes low-resolution analog signals and minimizes distortion and noise while enhancing details and colors for display on the HD monitor. The goal is a more film-like picture with truer colors and more realistic images. LG's XD Engine technology also is available in the company's new 42- and 50-inch PY10 plasma series models, and all of its LCD and DLP televisions.
A two-year limited warranty on parts and labor is standard with the MW-71PY10. This is probably one of the industry's most aggressive warranty programs for plasma TVs, it extends two years from the date of purchase and covers defects in material or workmanship under normal use.
A variety of inputs are available on the 71" plasma including DVI+HDCP, HDMI, RS-232C and PC (HD15). Flexible PIP, split-zoom and twin-picture features allows sub-windows to be moved, resized, swapped, and split into multiple windows (up to nine). The MW-71PY10 complements LG's extensive line of plasma display televisions, which include models in screen sizes ranging from 42 to 71 inches.
Pricing has not yet been determined.